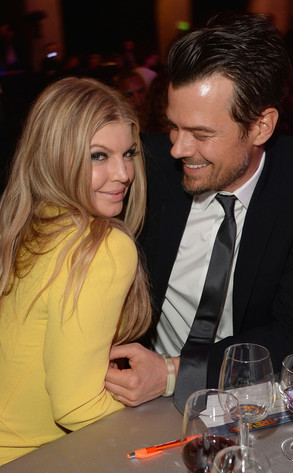 Jason Merritt/Getty Images for Trevor Project
Wow, how time flies!
It seems like just yesterday that Fergie and her stud Josh Duhamel were having their joint bachelor-bachelorette party before finally saying I do during their $1.5 million ceremony and then jetting off for their Dubai honeymoon.
Today marks the couple's fifth wedding anniversary, and it's been quite the exciting ride watching these two grow in their relationship.
The pair first met after the Black Eyed Peas made a guest appearance on Duhamel's former show Las Vegas (a request the actor put in to producers after he saw Fergie in the "Hey Mama" video).
"After they finished rehearsing, I was walking out, and all of a sudden she was walking toward me," Duhamel said in the July/August 2007 issue of Best Life. "I was like, Oh boy. She stopped. And this is so sad, but I said, in this desperate voice, 'You're hot!'"
He continued, "She replied, 'Yeah, I read InStyle. So...how was I in your dream?" (Fergie told Playboy earlier that year: "I had read in a magazine that he had a naughty dream about me.")
And the rest, as they say, was history.