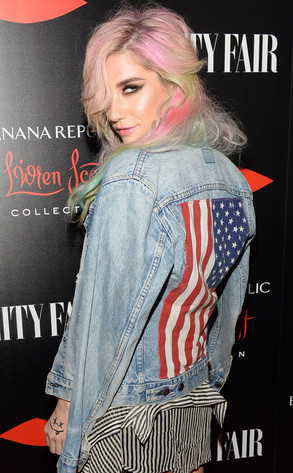 Courtesy of Michael Kovac/Getty Images for Banana Republic
Ke$ha recently entered rehab for an eating disorder, and now her mom is saying the singer's advisers are to blame.
According to Pebe Sebert, her daughter was under enormous amounts of pressure to lose weight from people in her camp, including her producer Dr. Luke.
"Dr. Luke had been telling her how she had to get in shape and lose weight and all this stuff. She was exercising and dieting and ultimately doing everything she could, but not getting thin fast enough," Sebert told People magazine. "And that's when she first became bulimic."
"Dr. Luke told a friend of ours he thought she looked like a refrigerator on her latest video, and could she please try to control her weight," the 26-year-old's mom adds.
"After she went on a 14-day juice cleanse, he said, 'Thank God you finally got rid of the weight! We've all been talking about it!' So she felt like she couldn't trust anyone."