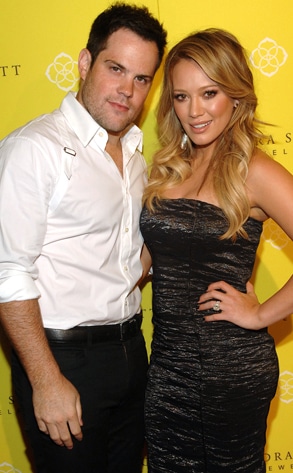 Duffy-Marie Arnoult/WireImage
Hilary Duff has split from husband Mike Comrie.
The 26-year-old singer and actress and 33-year-old former NHL hockey player have broken up after three years of marriage, Duff's rep confirms to E! News exclusively.
"Hilary Duff and husband Mike Comrie have mutually decided to an amicable separation," Duff's rep says in a statement. "They remain best friends and will continue to be in each other's lives. They are dedicated to loving and parenting their amazing son, and ask for privacy at this time."
A source close to the couple stresses that the split is extremely friendly and didn't stem from any particular incident. They simply drifted apart over time, despite trying couple's therapy to fix their romance. They remain best friends.
The former couple, who married on Aug. 14, 2010, in a Santa Barbara, Calif., ceremony surrounded by 100 guests, have one son, Luca Cruz Comrie, who turns two in March.
Duff and Comrie welcomed their first child on Mar. 20, 2012. "We are overjoyed," the new mom tweeted at the time. "He is surrounded by so much love!! Mom and baby are both doing extremely well."
In June 2012, just three months after giving birth, Duff opened up to E! News about being a mom, gushing, "There's really no words to describe it. It's the most incredible thing every day. It softens you so much. I feel like a big mushy ball." She added of Comrie as a first-time father, "He's really incredible. He's so hands-on, so thoughtful, so loving. He's really a natural, it's incredible. I got really lucky."
At the time, Duff also talked about keeping the spark alive in the marriage with a newborn at home. "We go out like once a week together and try and do something fun," she said. "We either go to dinner...we're going to go bowling next week. It's weird scheduling so much because we used to do things on a whim and no we have to schedule. But it's good. It's really important for your relationship."
Duff and Comrie, who retired from the NHL in 2012 due to a hip injury, began dating in the summer of 2007.
Proving they are the friendliest of exes, Duff and Comrie were just recently spotted all smiles during a stroll in the park. The former lovebirds also took little Luca to Disneyland for his first time in December. Duff shared an adorable pic of her happy family at the magical theme park, writing, "We braved Disneyland yesterday! Luca's 1st time."
Back in November 2013, Duff opened up about the possibility of having another kid with Comrie. "If I had another boy, I would be happy, but I would like to try for a girl and I'm not sure that I want to have three kids," she said.
She also called her bond with Luca "incredible," adding, "The mom and boy relationship is really, really sweet and I'm so obsessed with him."