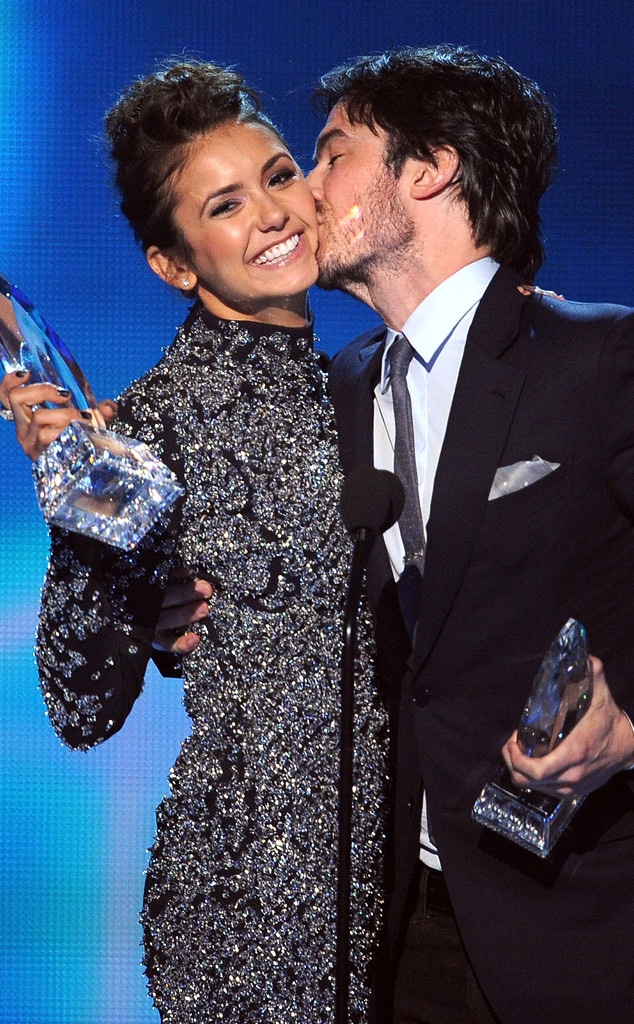 Kevin Winter/Getty Images
It's a good thing Nina Dobrev and Ian Somerhalder came prepared.
The Vampire Diaries costars and former couple joked about their "Best Chemistry" win at the People's Choice Awards in L.A. on Wednesday, Jan. 8, by humorously addressing the elephant in the room.
"This is crazy. Can you believe this almost five years in the making?" Somerhalder, 35, said while accepting the TV award. Dobrev then referenced their characters and said, "You're right, yeah. But you know what's crazier though, Ian? At the beginning of the show, Elena actually hated Damon."
"You were hooking up with my brother!" argued Somerhalder, who was referring to Paul Wesley's character, Stefan. "You killed my brother," Dobrev fired back, referring to Steven R. McQueen's character, Jeremy.
"And then she fell in love with me," Somerhalder recalled.
"And then we started dating on the show," Dobrev added.
Somerhalder noted that they started dating in real life just before Dobrev reminded the audience that they called it quits in May 2013 after three years of dating. "Then we broke up in real life," she said.
"And yet our characters are still dating on the show," Somerhalder said.
"It's a good thing it's not awkward," the show's leading lady said with a nervous laugh.
Cue the awkward facial expressions.
"Well, it's a good thing we have chemistry!" Dobrev said as Somerhalder gave her a peck on the cheek.
The exes—who got ready for the People's Choice Awards together—are clearly on good terms. (It doesn't hurt that they won the coveted spot in E! Online's Best TV Couple of All Time Tournament in November.)
Dobrev celebrated her 25th birthday on Thursday, Jan. 9, and Somerhalder was one of the first to wish her well. "Happy Birthday @ninadobrev!!!" he tweeted shortly after midnight. "The world loves you! We all do. Enjoy the moment, enjoy the day, enjoy the year!"