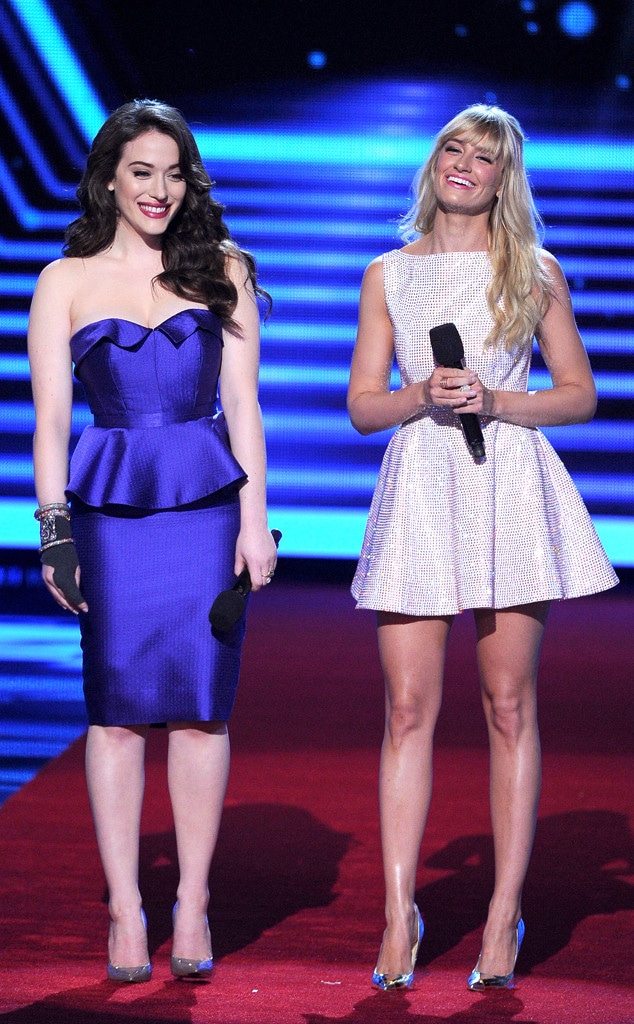 Kevin Winter/Getty Images
It's that time of year again!
The People Choice Awards honors the big stars that were chosen by the fans! And if you weren't able to watch tonight's big show, well, we feel sorry for you because it was absolutely fantastic. But don't feel too bad. We round up all the night's biggest highlights so you don't feel left out.
Let's get to it...
Best Intro Ever?!: Crossing over from their show, 2 Broke Girls, Kat Dennings (who wowed in a blue peplum Oliver Tolentino Couture dress) and Beth Behrs began the People's Choice Awards in an epic manner. Numerous nominees—including Christina Aguilera, Sarah Michelle Gellar and Ian Somerhalder—showed up at the diner, letting viewers know it was time for the show! Once Kaley Cuoco showed up and handed over hosting duties, it was time to get to it.
Best Food: Everyone got burgers and fries! Jealous.
Worst Let Down: Sorry, Ellen DeGeneres, you don't get to go up and accept Justin Timberlake's award with him. We know. It sucks. But at least you got a shout out (along with J.T.'s wife, Jessica Biel. Too cute!).
Kevin Winter/Getty Images
Best Bump: Drew Barrymore flaunted her growing baby bump when presenting the award for Favorite Comedic Movie Actor. And then Ellen called her "fat." Oh, you guys, she was totes kidding. Adam Sandler kept the jokes rolling when he told her, "You do look like you lost weight."
Worst Attempt at Having an Awkward Moment: Zac Efron does not have awkward moments. Even when he tries to have an awkward moment, he doesn't. He just stands there looking amazing.
Best Musical Performance: This was done by none other than your host Beth Behrs, who performed tidbits of "Wrecking Ball," "Before He Cheats" and "Baby Got Back." She even twerked and ended her singing showdown by dropping the mike and walking off stage.
Awkward Alert?: Nina Dobrev and Ian Somerhalder may be broken up in real life, but they didn't let it get too awkward when accepting the award for Best Onscreen Chemistry. Nope, not at all. P.S. Can something actually happen between Malin Akerman and Shemar Moore? That was hot!
Best Newlywed Kiss: First-time winner Kaley Cuoco gave her new hubby Ryan Sweeting a quick smooch before accepting her award on stage. "This is the second best thing to happen to me all year, the first was marrying you baby," she said.
Go Brit!: Britney Spears, after carefully going up the stairs, won a People's Choice Award for Best Pop Artist, and she was so thankful y'all.
Throwback Thanks: Sarah Michelle Gellar won her first PCA and made sure to thank the peeps from Buffy the Vampire Slayer. People cheered and suddenly it was 2000 again.
Best (or Worst?) Seating Arrangement: Kaley Cuoco was sitting inbetween her hubby Ryan Sweeting and ex-boyfriend/costar Johnny Galecki.
Here's the list of winners from the 2014 People's Choice Awards:
Movie actress: Sandra Bullock
Album: The 20/20 Experience, Justin Timberlake
Daytime TV host: Ellen DeGeneres
New talk-show host: Queen Latifah
Competition TV show: The Voice
Comedic movie actor: Adam Sandler
Network TV drama: The Good Wife
Comedic movie: The Heat
Onscreen chemistry: Ian Somerhalder (Damon) and Nina Dobrev (Elena), The Vampire Diaries
Pop artist: Britney Spears
Comedic TV actress: Kaley Cuoco
Comedic TV actor: Chris Colfer
Dramatic TV actor: Josh Charles
Cable TV drama: The Walking Dead
Action movie star: Robert Downey Jr.
Comedic movie actress: Sandra Bullock
Actor in a new TV series: Joseph Morgan
Late-night talk show host: Stephen Colbert
Humanitarian: Jennifer Hudson
Actress in a new TV series: Sarah Michelle Gellar
Network TV comedy:The Big Bang Theory
Sci-fi/fantasy TV actor: Ian Somerhalder
Cable TV actress: Lucy Hale
Streaming series: Orange Is the New Black