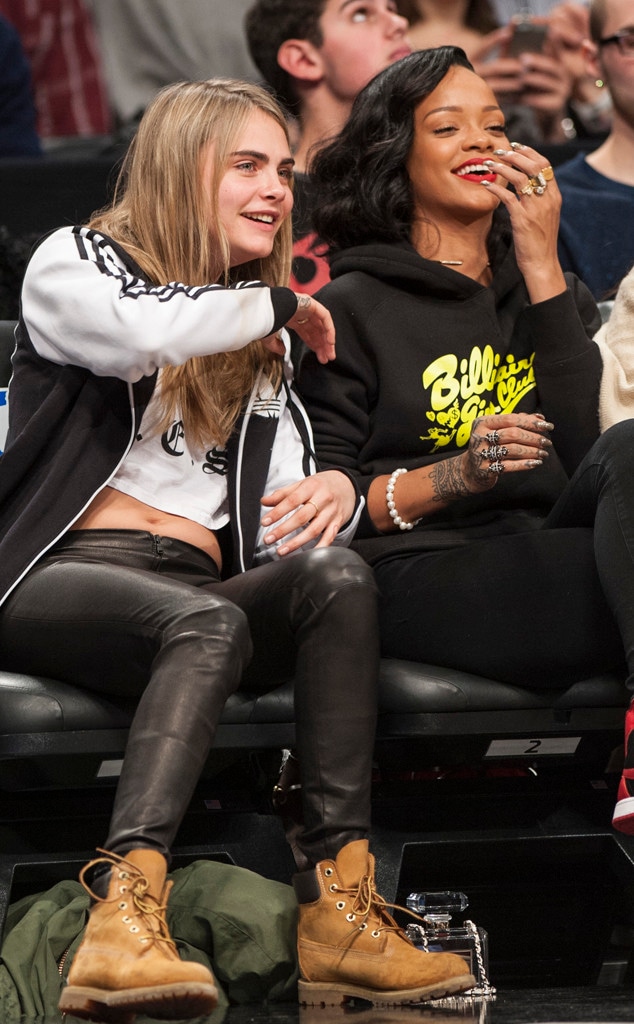 Anthony J. Causi / Splash News
Have you noticed that Cara Delevingne has quite the roster of famous friends?
The 21-year-old Brit beauty and model has been spotted with everyone from Rihanna and Miley Cyrus to hunks like Kellan Lutz and Harry Styles and new kissing pal Michelle Rodriguez.
So how does Cara know all these celebs? Here is her roster of star pals explained.
Rihanna: "Rihanna is a really good influence on Cara," a source tells E! News of Cara and RiRi, who partied together in Barbados over the holidays. "She's very grounding. Cara has found it hard to cope with fame and Rihanna has taken her under her wing. Rihanna knows when Cara needs guidance and that's why Rihanna reaches out to Cara."
"Rihanna has been a good mentor for her," the source adds. "Cara is only just getting to grips with what her future is. And Rihanna has been a good friend to her. She knows what it is like to suddenly be famous and for it to be a little intimidating."
Michelle Rodriguez: "They are new friends," the source says of the duo, who recently caught a basketball game at Madison Square Garden. "It's just a fun thing. They are just enjoying themselves."
Kellan Lutz: Cara recently shared a photo of her and Lutz at a sporting event. "They know each other through Miley," the source explains. "She is friends with Miley and so she hangs out with Kellan sometimes through that connection."
Miley Cyrus: As for Miley, the source tells us, "Miley and her—they just have a giggle together. They have a similar sense of humor. They love partying together. They are great friends."
Kate Moss: "She has been a massive influence in Cara's life," the source says. "She is very involved in her life. When Cara suffered from psoriasis, Kate was one of the first people to call her and booked her in with her doctor/nutritionist. It was a stress thing. Cara was totally overworked at the time. She had done every single show and it was too much for her. It was hard to look after herself."
Harry Styles: "They were seeing each other," the source dished. "Not now, they are just really good friends. They speak a lot. There is no awkwardness there. Just good buddies. They were both away so much, it could never have become something serious."
Kanye West & Kim Kardashian: "Kanye was really into modern celebrity icons," the source says. "He was intrigued by her. He wanted to meet her. Cara loves the Kardashians as she watches them all the time."
Rita Ora: "They are not in touch at the moment," the source explains. "They are not as close anymore. They went down different paths. Rita got a boyfriend and it changed their relationship. It changed the dynamic."
Justin Bieber: Cara and the pop star met up during last year's Victoria's Secret Fashion Show. "They hung out backstage and at the party," the source dished. "Not really friends and not really in touch. He's not her type, but the speculation at the time made her and her friends laugh."
Taylor Swift: Swift and Delevingne, both exes of Styles, got silly backstage at the Victoria's Secret Fashion Show.
Paris Hilton: "She has known Paris for years," the source said. "They met in South of France or Ibiza, I can't remember where. They will hang out when at same party but not close friends. Just good party pals."
Isla Fisher & Sacha Baron Cohen: Cara shared a cozy photo of the threesome on Instagram last May, writing, "What a couple! These two make me wanna get married."