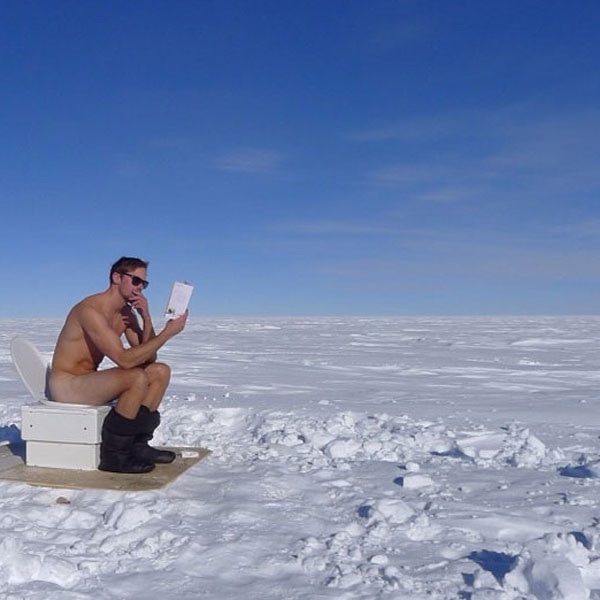 Instagram
Public nudity is nothing new for Alexander Skarsgård, who took it all off for the True Blood sixth season finale. And yet, that didn't stop the Swedish actor from stripping down yet again in mid-December.
Inge Solheim, who acted Skarsgård's team's guide on the Walking With the Wounded Challenge, shared a snapshot of the naked TV star via Instagram on Tuesday, Jan. 7. In the picture, a pensive Skarsgård pretends to read a book while sitting on an outdoor toilet.
The photo was taken after the actor had reached the South Pole in Antarctica. "#southpole -30C What are you reading Alex? The script for season 7 of #truebloodHBO?" Solheim wrote in the caption.
This isn't the first time that a nude Skarsgård has sat outside while reading a book—he exposed his penis in the 70th episode of True Blood, "Radioactive," which aired on HBO on Aug. 18, 2013. The 6-foot-4 blond decided to bare his body at the last minute.
"It was never written to have him full frontal. Alex doesn't like wearing his 'sock' or the 'sack of destiny' as we call it. It's the sack of destiny that covers everything," costar Stephen Moyer told E! News in September 2013. "He doesn't like wearing those, so he had one in his room that day, [but] he was the one who chose not to wear it."
Moyer added that the crew had unsuccessfully tried some "camera trickery" to hide Skarsgård's goods.
According to Skarsgård, nudity has never been a big deal in his family. "My dad and his side of the family are old hippies. I was 14 the first time I saw my dad wearing pants," he said on Conan in June 2013. "He was always naked."