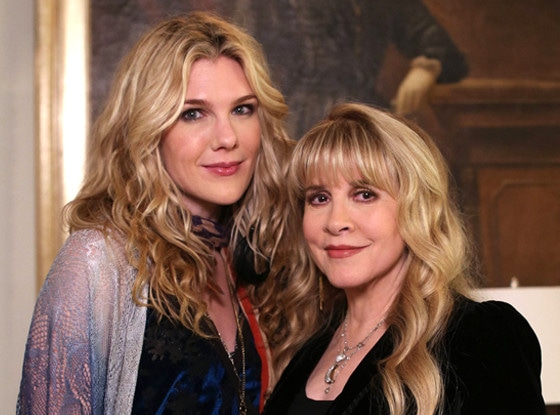 Michele K. Short/FX
Something wickedly amazing this way comes!
Stevie Nicks makes her American Horror Story: Coven debut in the appropriately titled "The Magical Delights of Stevie Nicks," airing tomorrow night, and we've got your exclusive first look at the singer-songwriter in action.
So what brings the Fleetwood Mac singer to New Orleans? She's there to sing (!) with her No. 1 fan Misty Day (Lily Rabe) and to wish her luck with the Seven Wonders, a test which will prove the hippie swamp witch is the coven's next Supreme. In our exclusive sneak peek, Nicks makes Misty's dreams come true when she teaches her how to shawl-twirl. Oh, and she gifts Misty with one of her legendary shawls as well. Who needs the Seven Wonders when you have One Stevie Nicks Shawl?!
And as if an exclusive sneak peek wasn't enough, we also chatted with Nicks (Yes, our hearts are still shawl-twirling over this fact) about her highly anticipated guest appearance, and we just had to know if the shawl she gifted Rabe with in that scene was actually one from her own collection. It was...but the one Misty ends up wearing in the episode isn't. We'll let Nicks explain.
"That was my shawl that I was wearing, but that shawl Lily was wearing was not [mine] because that shawl is in another scene that I haven't seen, but that I read in the script," she tells us. "I wasn't there, so she used a shawl that they had and it got dragged through the mud or something. They couldn't just switch shawls. They're all about continuity; they're photographing your earrings and every single thing you wear. I would have loved for her to wear one of my shawls, but I did give her my shawl at the end of the twirl. She got the Stevie shawl, but it wasn't to have a starring role."
We're happy to report no real Stevie Nicks shawls were harmed in the making of this episode.
Check back with us tomorrow for more shawl-related scoop from Stevie Nicks. And yes, we managed to ask her some other stuff about her guest appearance on American Horror Story: Coven, too.
American Horror Story: Coven airs Wednesdays at 10 p.m. on FX.