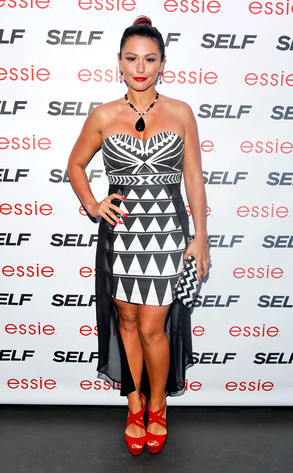 Cindy Ord/Getty Images for SELF Magazine
In case you didn't know, JWoww's having a baby!
The former Jersey Shore star and her fiancé Roger Mathews, 37, first revealed that they are expecting their first bambino on Christmas Day, and now JWoww (aka Jenni Farley) shared the story of how she found out she was pregnant...and the moment she thought she lost the baby.
"The day before I left for the tanning convention in Nashville, which is my favorite part of the year because I show off all my new tanning products, I took a pregnancy test and had a faint line," she wrote on her website. "I was totally confused so I showed Roger and made him buy two more tests. Both times I got faint lines but they were barely visible so I still wasn't sure. I looked up everything online and swore I was pregnant but Roger was still skeptical."