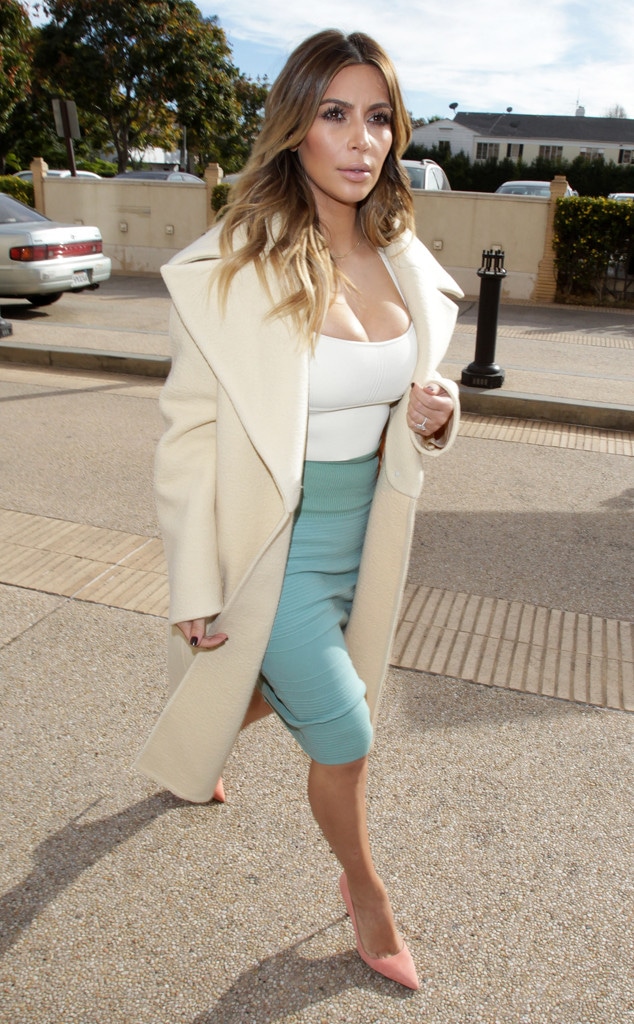 Clint Brewer/Splash News
Kim Kardashian is the gift that keeps on giving.
After sharing a clear view of her booty through a sexy post-workout selfie on Instagram, the E! star showed off her famous curves yet again by flaunting some major cleavage while wearing a sexy yet sophisticated outfit during her shopping trip in Beverly Hills earlier today.
Kim wore her long ivory coat over a tight (and low) white tank top, light blue pencil skirt and coral pumps as she engaged in some retail therapy at Barney's of New York.
The new mom has proudly showed off a toned post-baby body, and made sure that people knew she worked hard to get to where she is.
After rumors surfaced that she had turned to plastic surgery to transform her post-body, the new mom took to Twitter to set the record straight. "I worked so hard to train myself to eat right & healthy, I worked out so hard & this was such a challenge for me but I did it!!! I'm so proud of my accomplishment & NO ONE will take this away from me with fake reports!"
One of her big go-to workouts is Pilates. "Kim loves these exercises," says Kristi Vacanti, owner and head trainer of Pilates Plus Los Angeles. "It enables her to get a total body toning and calorie burning workout in, in under and hour so she can get back on with her busy day and baby North!"
Keep it up, Kim!

Don't forget to watch the season premiere of Keeping Up With the Kardashians on Jan. 19 at 9 p.m., only on E!