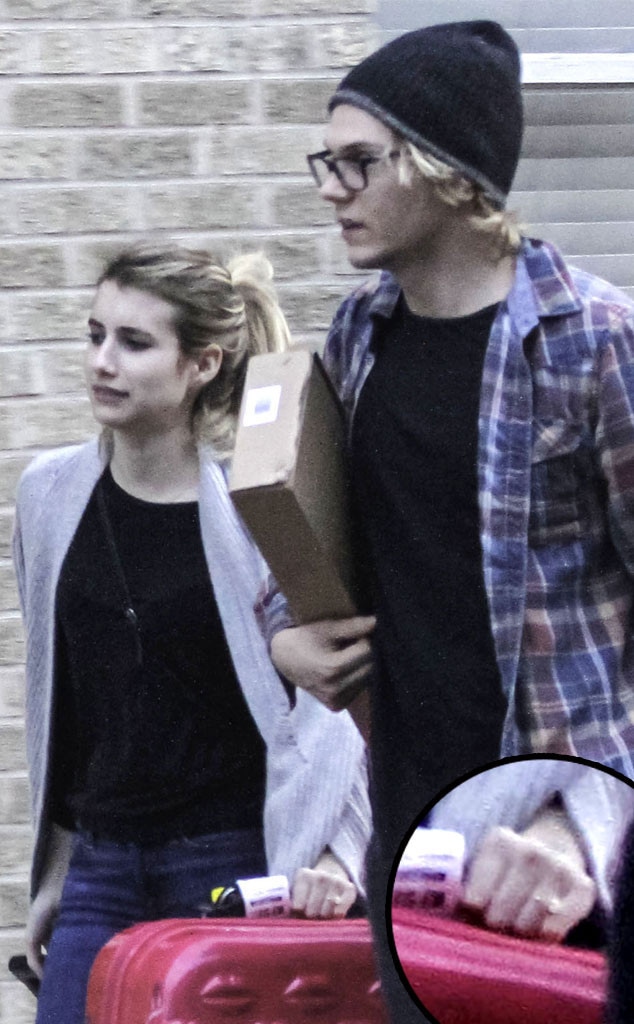 Katryna/FAMEFLYNET PICTURES
UPDATE: A source has confirmed to E! News that Emma Roberts and Evan Peters are engaged. Congrats, you two!
____________________________
That's quite the ring Emma Roberts is wearing there!
The 22-year-old actress was wearing what at least looks like more than a promise ring while out with beau—and now reported fiancé—Evan Peters.
Extra is reporting, via sources, that the couple, who began dating in spring 2012, got engaged over the holidays in London.
The two returned to New Orleans on Sunday, where Roberts flashed the first glimpse of what could be her diamond and gold engagement ring.
Interestingly, according to Roberts, she and Peters, 26, didn't hit it off when they first met. 
"We didn't get along, actually—he wouldn't speak to me," the star recalled in the August 2013 issue of Nylon. "But it turned out that we both liked each other, so months later, we started dating, which worked out for the best."
Roberts—who previously dated Alex Pettyfer and Chord Overstreet—added that she's a big believer in love. "I come from the school of getting married once," she explained. "Every relationship should be important. Everyone kind of rolls their eyes at me, but I still believe in the romantic movie outcome."
Christopher Polk/Getty Images for FOX
She and Peters, who met on the set of the dark comedy Adult World, now costar on American Horror Story: Coven. 
Roberts' dad is actor Eric Roberts and her aunt, maybe you've heard of her, is Julia Roberts—and the Oscar winner recently laid down her hopes for her young niece as her star rises in Hollywood.
"When [Emma] comes to stay with us, I always think, 'Please let her be the same'—and she is still the same magical girl she used to be," Roberts told the Los Angeles Times. "I think so much of it has to do with your intentions in taking on a business like this. If you have a pure view of what you want to accomplish, I think you can maintain your sense of self."