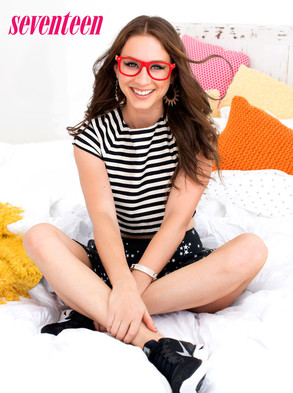 Anne Menke/Seventeen Magazine
Much like her Pretty Little Liars character Spencer Hastings, actress Troian Bellisario strived for perfection from a young age. That quest led the TV star down a dangerous, self-destructive path.
In the February 2014 issue of Seventeen, L.A.-born Bellisario opens up about her stressful upbringing. "I was the youngest daughter, the perfect little girl. My school was a very intense college prep school. So it was about wanting to please my father and mother and wanting to be perfect to everybody. I just thought if I ever expressed to [my parents] any sadness or anger or anything that's going on with me, they would disown me. I kept a lot of it bottled up inside, and it turned into self-destructive behavior."
Bellisario says she "started self-harming" during her junior year of high school. "I would withhold food or withhold going out with my friends, based on how well I did that day in school. Being a teenager is chaotic because you're kind of coming into your own, but you're not an adult; you're fighting with your parents over responsibilities and freedom. I didn't know what was right and what was wrong, so I think I created this bizarre system of checks and balances to create order in my world. But it really backfired."