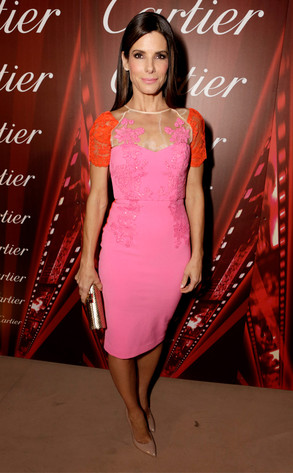 Jeff Vespa/Getty Images for PSFF
At tonight's 25th Annual Palm Springs International Film Festival Gala, honoree Sandra Bullock brought the comic relief!
Reading internet comments about herself while accepting the award for the Desert Palm Achievement Award, the 49-year-old Oscar winner made fun of users who pointed out her age, quoting, "Sandra Bullock is over 40," adding, "Sandra Bullock is way past 40."
She then referenced a rumored feud between her and Julia Roberts over their mutual pal George Clooney, joking, "Julia, you and I are in a feud over George Clooney. We talked about this right? It's shared custody."