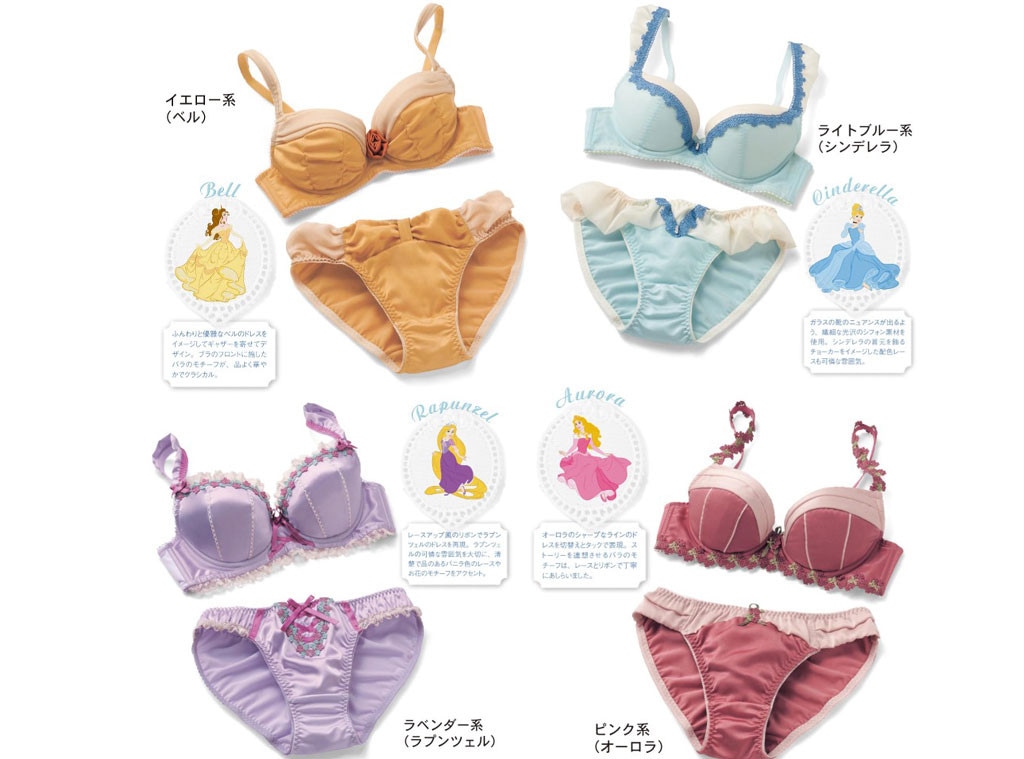 Courtesy: Belle Maison Japan
Nowadays, you can get married in a Disney Princess-themed wedding dress, while you exchange Disney Princess-themed rings and dance to a Disney song at a Disney-themed reception. Well, you know what comes next, because you waited until marriage to have relations, right?!
Well, if you didn't wait (gasp!), you can still wear lingerie that was designed to honor certain Disney Princesses. Bellemaison, a Japanese online retailer, is selling undergarments for the sexy Disney-lover in all of us. Are you a Cinderella kind of girl? A Belle devotee? You're in luck! Oh, is Jasmine your fave? Sorry, no naughty panties for you.
Currently, only Beauty and the Beast's Belle, Cinderella, Sleeping Beauty's Aurora and Tangled's Rapunzel are represented on the lingerie front. At first glance they all look the same, but if you take a closer look you'll see some subtle differences that could be nods to their princess personalities:
Belle: By far the simplest of the set, because Belle was born and raised as a simple town girl who just wants to get lost in books. And of course, there is a rose to pay homage to the rose she very nearly destroyed with one irresponsible touch!
Cinderella: A lot of white and blue, just like her ball gown. We also like to think some of it is see-through, much like her glass slippers.
Aurora: Controversial statement alert: Aurora is one of the hottest Disney girls. So it's only fair she gets a lot of flair and embroidery on her lingerie. Aurora is also the mythical Roman goddess of the dawn, which is represented...nowhere on the bra or underwear. 
Rapunzel: Homegirl loves her purple, so obviously it had to be that color. Plus, we are taking the corset pattern on the front of the underwear as a symbol of how she was kept from the world for so long, tied to her solitude. Hm. We might be reading way too much into this Japanese lingerie. Time to stop.
What Disney Princess-themed undergarments would you wear? And which princess needs to be honored next?
(H/T io9)