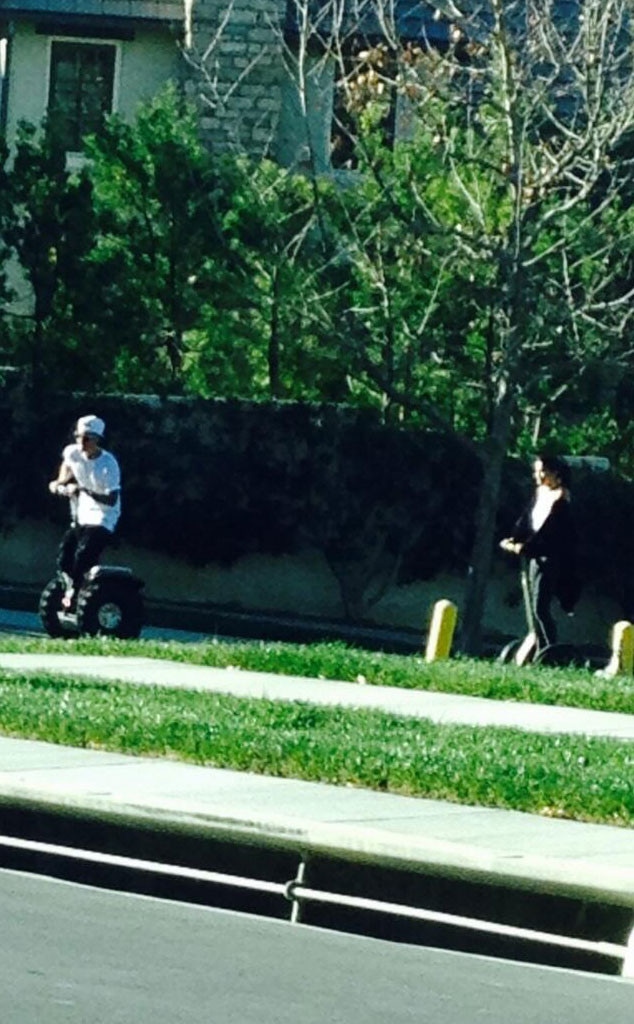 Twitter
Is history already repeating itself in 2014?
For the first time in a long time, exes Justin Bieber and Selena Gomez were seen hanging out together today—gasp! The 19-year-old pop singer and the brunette beauty were photographed riding segways around The Oaks, a gated community in Calabasas where Biebs currently resides, and apparently caused a traffic jam.
A Twitter user, who captured the snapshots of the former Hollywood couple during their rendezvous, shared the pics on the social media website and also gave a little play-by-play of what went down.
"Bieber and Selena segwaying in the Oaks. She was so nice, so he yelled at us," Nick Sanitsky tweeted with a photo.
"Shoutout to @justinbieber for holding up all the traffic in the Oaks. Grow up...Thanks to @justinbieber told us to f*** off, and his bodyguards blocked the road, so hello to my new followers! Gotta admit, I was kinda starstruck by @selenagomez but @justinbieber ruined the moment."
Both Selena and Bieber's reps declined to comment.
Their reunion comes shortly after J.B. revealed that he still has feelings for his ex-girlfriend while stoppin by Big Boy's Neighborhood for Los Angeles hip-hip radio station Power 106.
"I wrote the best music once my heart was broken," he told Big Boy on Dec. 18. "'All That Matters' was written when I was in a great place in my relationship, and at that time, she was all that mattered in my life."
Bieber continued, "[The break up] affected us, especially when we are in front of so many people. It's such a public thing. It's just hard for the both of us. But you know, she's a great woman. I love her till this day."
Justin added, "I think we're going to be the greatest of friends. Right now we're taking a little time and not talking."
Clearly, things have changed.
The sighting was first reported by TMZ.
—Reporting by Lindsey Caldwell and Marc Malkin