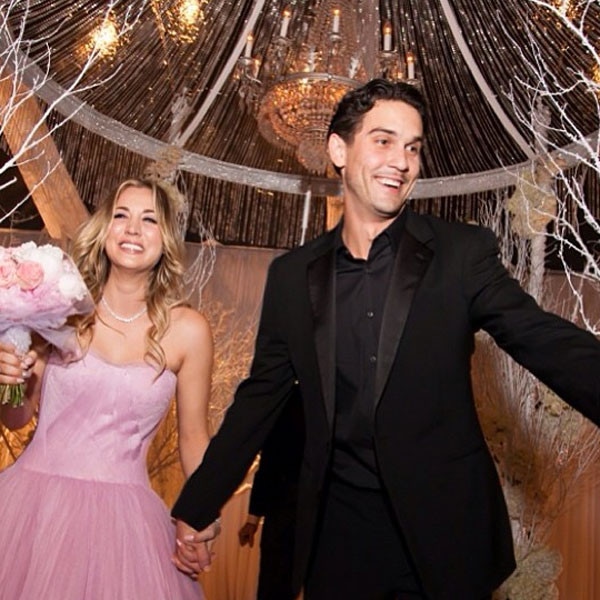 Instagram
Bon appétit!
Kaley Cuoco and Ryan Sweeting's wedding guests were in for a treat. Not only did they get to party the night away with lovebirds Ryan and Kaley (and her gorgeous pink Vera Wang dress), when the pair tied the knot on Dec. 31, 2013, 150 of their nearest and dearest enjoyed a drool-worthy menu from Chef Meg Hall that perfectly fit in with the event's fire and ice theme.
Based in Los Angeles, Chef Meg has been featured in numerous publications including Angeleno, the Los Angeles Times and California Wedding Day. She also appeared on Food Network's Chef Challenge, "Extreme Chef."
"To see her dress and feel the excitement, just magic," the chef exclusively tells E! News. Kaley waited to walk down the aisle in the kitchen tent, Hall explains. The Big Bang Theory star popped in the kitchen tent with her entire bridal party, much to the surprise to the catering team. "I don't usually get to see the bride until after the ceremony," Hall gushes.
For dinner served in the main tent of the wedding at the Hummingbird Nest Ranch, the offerings included Moroccan spiced roasted chicken, fire cracker rock shrimp served on whole wheat linguine, and stuffed beef tenderloin with sautéed spinach and mushrooms. The couple thoughtfully included vegetarian fare as well with Provencal stuffed zucchini, Tahitian vanilla bean sweet potatoes, and roasted butternut squash with toasted walnuts, shaved parmesan and truffle oil.
Kaley and tennis pro Ryan offered signature cocktails for their romantic soiree: white cosmopolitans and a Razzle Dazzle.
And for partygoers with a sweet tooth could indulge in a s'mores station, candy buffet and sundae bar.
How sweet love is!
But the party didn't end on New Year's Eve. The next day, Kaley and Ryan invited their friends and family to join them for a post-celebration brunch. Guests didn't have to go far to continue the good times.
The mid-day party was also held at the Hummingbird Nest Ranch and catered by Chef Meg Hall—it featured more tasty treats for guests to fill up on. For brunch, Kaley and Ryan's loved ones enjoyed an extensive menu:
Leek, fontina and sun dried tomato frittatas
Greek yogurt parfaits with fresh fruit, walnuts and lavender honey
Banana nut french toast and maple syrup
Crispy maple bacon
Roasted garlic and rosemary breakfast potatoes
Savory crepe station: Bacon, sautéed mushrooms, brie, scallions, Italian sausage, parmesan.
Sweet crepe station: strawberries, vanilla bean whipped cream, Nutella, bananas, powdered Sugar, blueberries  
Pain au chocolat
Winter citrus fruit tarts
Fresh cinnamon buns
Meyer lemon coffee cake
Sounds like Kaley and Ryan's friends and family had a delicious time!