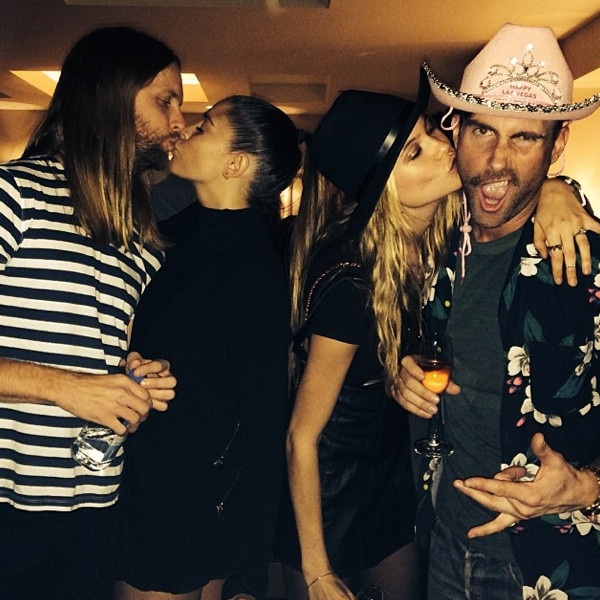 Instagram
Adam Levine wasn't looking quite like his usual 2013 Sexiest Man Alive self on New Year's Eve.
After the Maroon 5 frontman and his bandmates Dec. 31 performance at Las Vegas' Mandalay Bay, the guys and their ladies (including Adam's fiancée Behati Prinsloo) hit up LIGHT Nightclub. But instead of the standard all-black everything outfit most guys wear for a night out, Adam, 34, opted for a much more entertaining touristy look.
Ali Tamposi, Adam's bandmate James Valentine's girlfriend, Instagrammed a photo of the rockers getting NYE kisses (James from Ali and Adam from Behati, obviously!). More notably in the pic, though, is the pink cowboy hat with a tiara and the words "Happy Las Vegas" bejeweled across the front that Adam wears proudly atop his [usually] meticulously coiffed head of hair.
Adam paired his excellent accessory with an unbuttoned Hawaiian shirt, some questionable facial hair and even threw up indeterminate hand symbol. Behati, 24, played it stylishly safe in all black, and James and Ali kept it pretty basic as well.
Fashion choices aside, it seems that the group had a great time at the club. An eyewitness tells E! News the gang arrived just after 1 a.m. and stayed about an hour. After having eaten a delcious pre-show meal of Kumi sushi earlier in the night, the gang kept the party going afterhours with vodka and Dom Perignon champagne.
Adam and Behati "acted super lovey dovey," says a witness, "but they didn't keep to themselves. Both were very social with the rest of the table. Behati has definitely won over his bandmates-they seemed to love her. The girls, too - everyone was getting along great and having fun."
Sounds like a great way to kick off 2014!