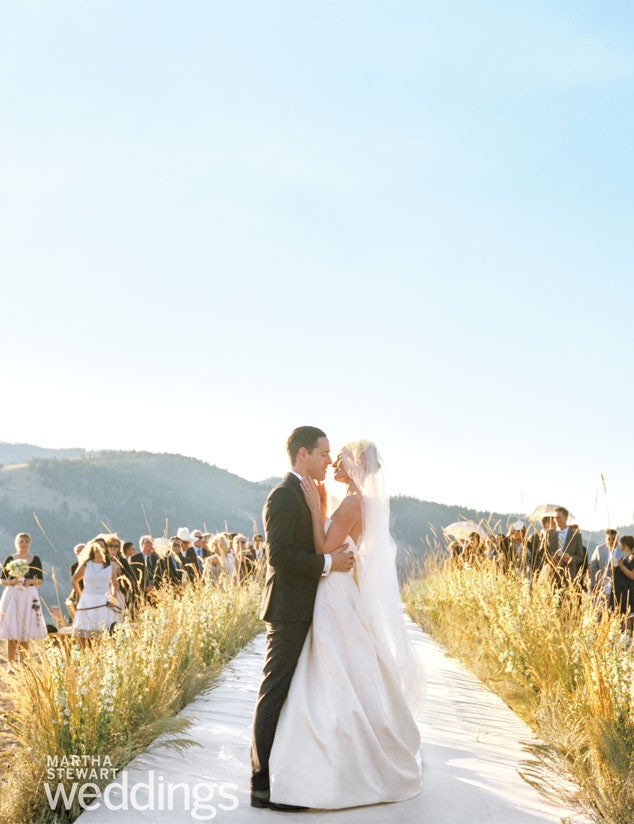 Martha Stewart Weddings
You've already seen Kate Bosworth's wedding dress, right?  Well, here's the surprise: The actress actually had two gowns designed by Oscar de la Renta for her Big Sur nuptials to Michael Polish, which took place on Aug. 31. One for the outdoor, mountain top ceremony, and a second one—embellished with crystals and pearls—for the reception.
"I was deeply in love with both dresses," she shares with Martha Stewart Weddings magazine. But that's not all: The bride and groom' also worked with the Martha Stewart team on every detail of their big day. From the kickoff fiesta the night before the duo said "I Do" to the rose adorned wedding cake, every aspect of the 30-year-old's wedding is captured in the winter issue.
A few of the highlights?
The reception room featured twining vines and votive candles, which Polish said  "looked like a Midsummer Night's Dream." Instead of a boring old guest book, friends and family signed a map of Montana. And party favors were made up of whiskey and bitters wrapped inside rubber stamped paper with their new monogram.
For more photos and details from Kate Bosworth exclusive feature inside Martha Stewart Weddings tune into E! News at 7 p.m. and 11:30 p.m.