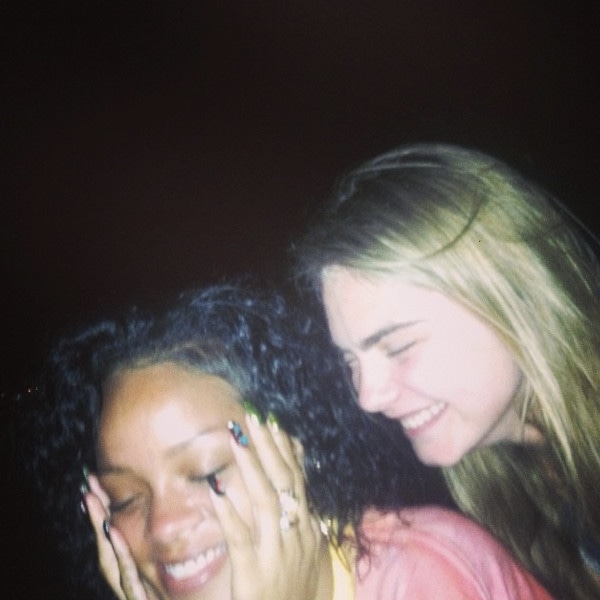 Instagram
Look at these beaming beauties in Barbados!
Good pals Cara Delevingne and Rihanna enjoyed a fun night out on the town, captured in an adorable snapshot, on Saturday, Dec. 28.
"Nothing but smiles #barbados," the Victoria's Secret angel captioned the pic of the two ladies on her Instagram account.
The Barbadian singer and the British model are cuddled up close for the late-night photo session. Both of their eyes are closed, perhaps from grinning so widely.
Delevingne and Rihanna have both been spotted on the Caribbean island throughout the week, flaunting their enviable bikini bodies as they enjoy the sunshine.
Delevingne, who has been enjoying a relaxing vacation with family and friends, most recently showing off her curves in a bright blue two-piece in Bridgetown over the weekend. During this vacation, she also debuted a new under-boob tattoo.
The ink appears to read "Don't Worry Be Happy," à la the 1988 Bobby McFerrin song.
Perhaps the inspiration behind Delevingne's tat comes from Rihanna who has a Goddess Isis ink, which she got last year in honor of her late grandmother.
Rihanna, who has been sporting a variety of skimpy swimwear during her visit home for the holidays, was spotted enjoying a cocktail in the ocean as well as taking a ride on a jet ski.