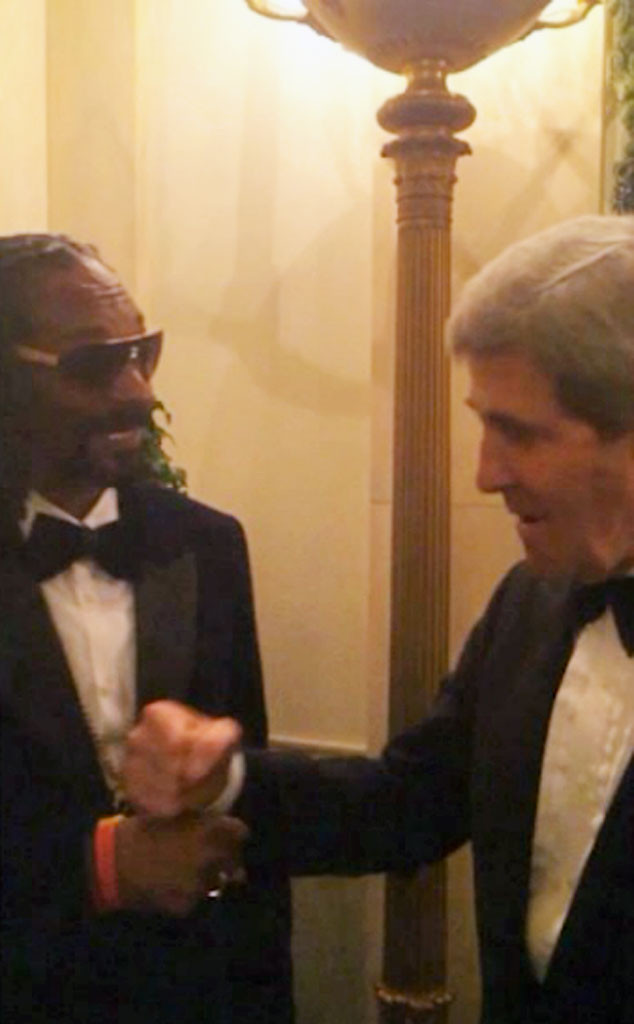 Instagram
Does this mean John Kerry suddenly has street cred?!
While Snoop Dogg has produced hits such as "Gin & Juice," "Murder Was the Case" and has made no secret of his love of marijuana, the 42-year-old rapper proved he can not only rub elbows with America's top political officials, but he's also successfully transformed himself into somewhat of a White House socialite.
In an Instagram video uploaded by Snoop on Thursday, Dec. 26, the hip-hop star is seen chatting with Secretary of State John Kerry, reportedly during a party for the 2013 Kennedy Center Honorees hosted by the Obama Administration at the White House in early December.
"Boss life. me n john kerry at d white house !!! #reincarnated #khc," the performer captioned the epic clip.
While the music in the background at the fancy soiree makes it difficult to tell whether the duo is discussing the latest in health care or Miley Cyrus' most recent music video, it's clear the twosome became fast friends and appear to be chatting about the origins of hip-hop.
"He invented your whole thing," Kerry tells Snoop in the clip, possibly referring to jazz musician Herbie Hancock, who was honored that night at the event.
"He invented hip-hop," Snoop agrees before the pair share a friendly fist-bump—initiated by Kerry—as another partygoer says "Ooh, you got a bump!" in the background.
According to the Huffington Post, the hitmaker performed a rap called "Cataloop (Flip Fantasia)" which draws from Hancock's "Cantaloupe Island." 
The performance was seemingly an exciting moment for Kerry, but in reality, it's the twosome's fist-bump that will go down in history.
No word yet whether Snoop taught Kerry to drop it like it's hot—here's hoping a new video will clear that up next week.