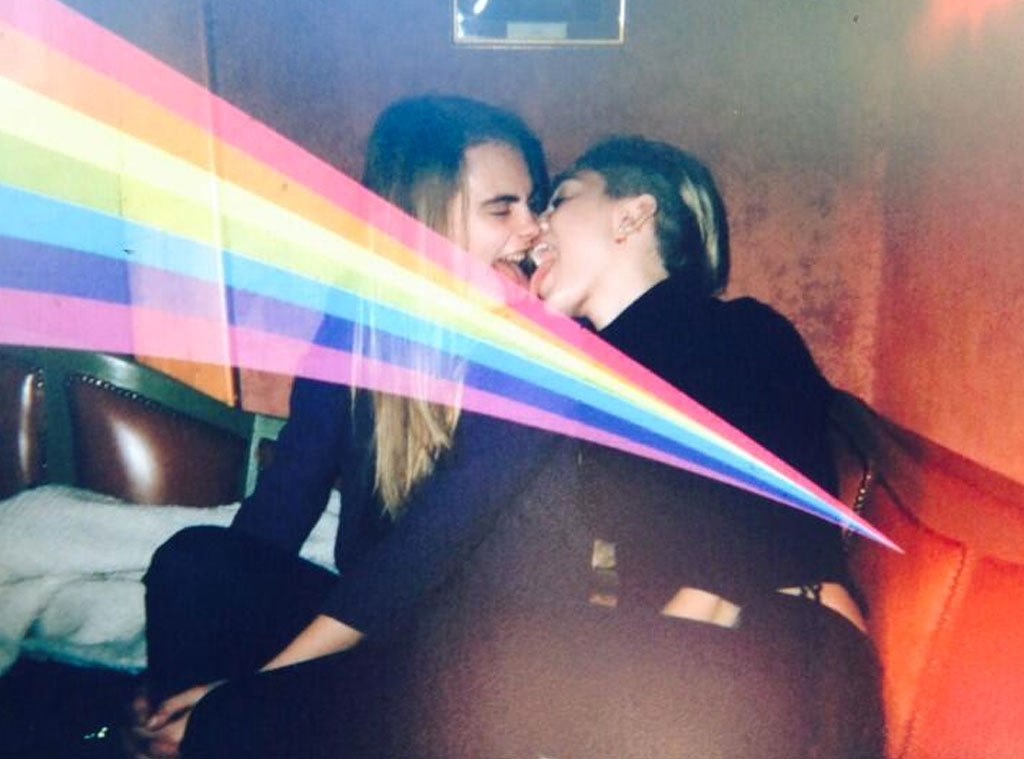 Twitter
Miley Cyrus doesn't just lick sledgehammers and varying inanimate objects--she licks Cara Delevingne's tongue, too!
On Thursday, Dec. 26, the "Adore You" singer tweeted a racy photo of herself doing just that. The filtered shot shows Miley, 21, French kissing the Victoria's Secret Model, also 21, as a graphic rainbow appears to beam from behind them both..
"LOVE!!!!!We finally got the filmed developed Mush," Miley wrote. (As you can see, from M.C.'s hair, this 'do is from several weeks ago.)
The former Disney star and her British socialite BFF don't just get together and make funny faces, though. Last month, the ladies hit up an Amsterdam coffee shop (for some caffeine and chitchat, of course). It seems, based on Miley's hair and both girls' all-black ensembles, that this was where they swapped spit for the aforementioned picture.
Miley is certainly not Cara's only famous friend (she's got a whole posse!), but these two do seem to share a particular quirky sense of humor.
Just yesterday, for example, Cara recreated Queen Elizabeth II's speech with a turkey on her head, a whipping pig, bacon lipgloss and a slew of other not-typically-regal props. Miley, a fellow fan of the onesie, hammed it up on the holiday with her family, recreating their endearingly cheesy Christmas photo from years ago.
Twerk!