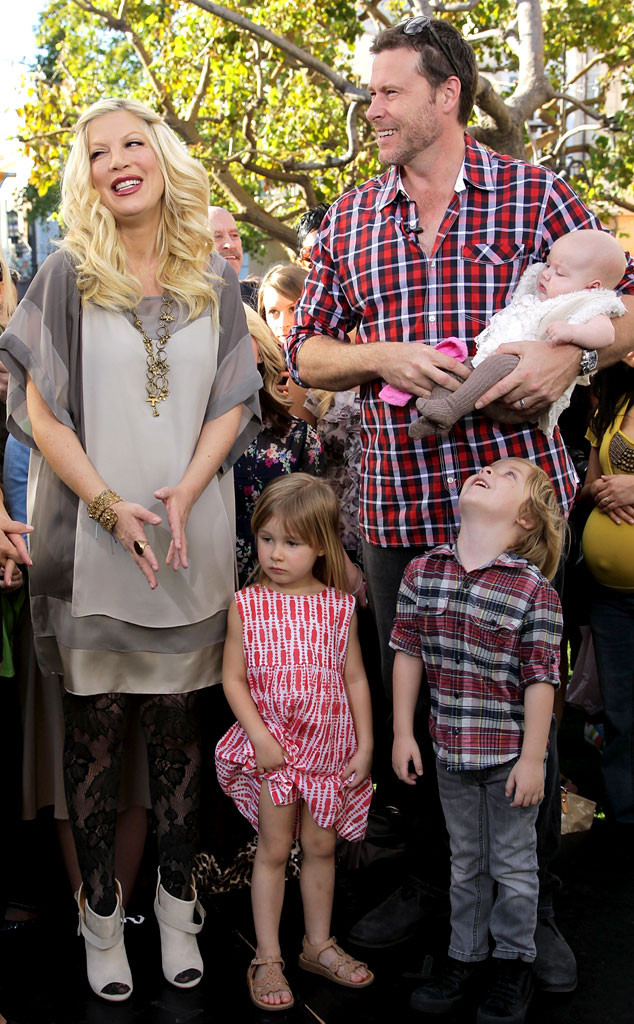 Noel Vasquez/Getty Images
Tori Spelling is giving thanks for her "beautiful" family.
The 40-year-old actress headed to her blog to gush over her husband Dean McDermott and their four little ones, wishing fans a happy holidays while she was at it.
"I wanted to take a minute to wish each and every one of you a very Merry Christmas, and for those of you who don't celebrate Christmas, a very happy holiday season!" she wrote Wednesday.
"As another year comes to a close, I can't help but feel so grateful for all of my blessings," the mom continued. "My beautiful family, my amazing friends, and of course, all of you!"
Spelling posted a shot of their adorable children, Stella, Hattie, Finn and Liam, posing by their Christmas tree, with 6-year-old Liam rocking shades.
As for how the Spelling It Like It Is author spent the day with her family, Spelling said they were making the most of their time together, "cuddling, cooking, baking, unwrapping gifts, eating, watching movies and counting our blessings."
The star's blog post comes in the wake of reports McDermott cheated on Spelling recently with a woman he met in Toronto, which neither Spelling or her Chopped Canada host hubby have commented on.
Spelling's rep was not available for comment.
—Additional reporting by Lindsay Good