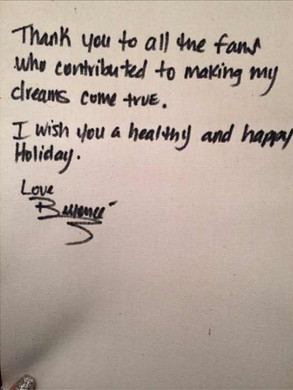 Instagram
Beyoncé is taking time out of her Christmas celebrations to show her appreciation for her fans.
The singing sensation added two holiday-themed snapshots to her Instagram account on Wednesday, Dec. 25.
The first photo is a sincere handwritten message by the 32-year-old that reads: "Thank you to all the fans who contributed to making my dreams come true. I wish you a healthy and happy holiday."
Blue Ivy's mama also shared her holiday card, in which she is striking a very fierce pose against a gray backdrop in a high-fashion tuxedo-like ensemble with a white blouse. The Grammy winner's long blond curly locks are styled to one side and she completes the formal look with bright red lips.
Happy holidays indeed, Bey!