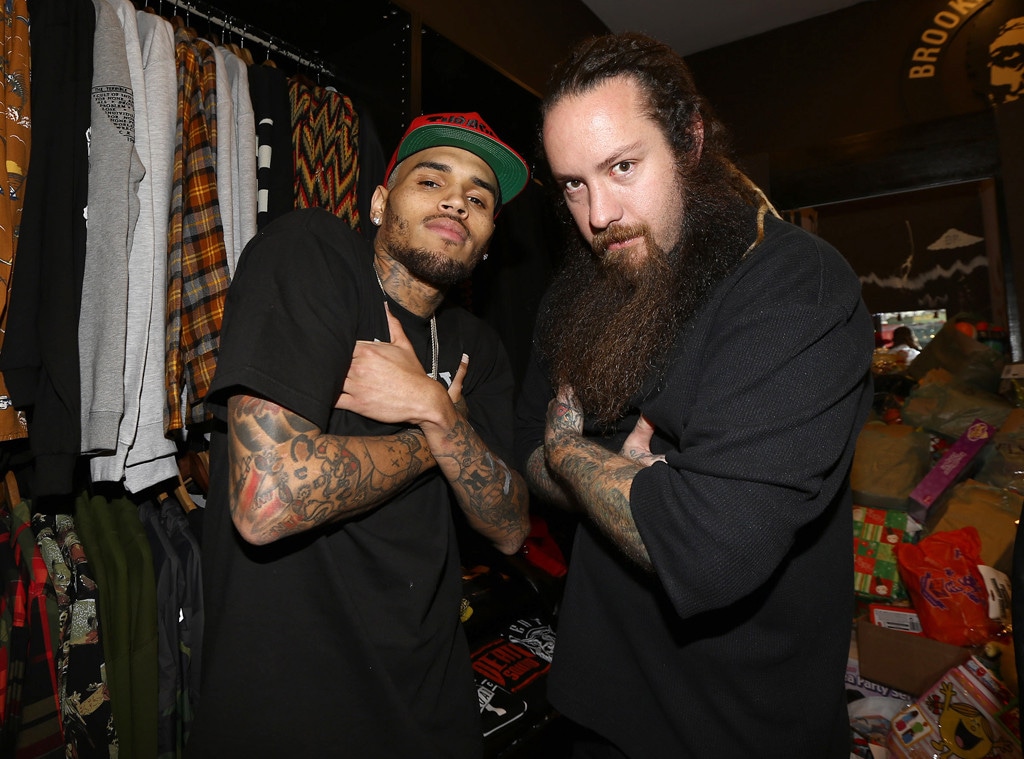 Splash News
'Tis the season.
Chris Brown left his rehab facility for a bit to spread some holiday cheer for kids at Brooklyn Projects Melrose in Los Angeles Sunday.
Rocking a red baseball cap and black Brooklyn Projects t-shirt, the blonde "Love More" crooner was all smiles as he posed with fans and collected toys at the Chris Brown and Brooklyn Projects toy drive.
"Thank you to all the fans who brought gifts for the kids today. Have a wonderful holiday. You've made a merry Christmas for a young child!," Brown tweeted once the event was over.
"Chris organized a charity toy giveaway for Christmas. He teamed up with Brooklyn Projects and their Melrose store. The  toys from the charity drive are going to his three favorite charities—the Genesee Center, LA Fire Department, and 2nd Call. He wanted to do something for Thanksgiving but because of his situation he wasn't able to. Yesterday he was granted the opportunity to be out all day and he made it happen," Executive Officer Skipp Townsend tells E! News.
 
"People were invited to come by and drop off a toy and by doing so they could take a picture or talk to Chris at Brooklyn Projects at the Melrose store. It was a meet and greet toy drop off and he had some special guests including Tyga and actor Kevin Hart."
"He is doing really well. He is excellent. He was in the right mind and spirit. He was really comfortable and it was really good for him. It was a place where he got to relax and be able to be himself and he wanted to help these families and spend some time with his fans and he found a way to do both," he added.
 
"A real special moment was before the charity drive began. Chris was in the backyard [of Brooklyn Projects] and I watched him painting  a blank board. Watching him paint, I could see this is his true love. A lot of people have criticized his painting on the house and other things but he loves to paint and it is his art. He was having a great time and was really relaxed and enjoying himself," he said. "It was about them giving."
He went on to post a split shot of himself at the toy drive and a huge line of people outside, writing, "MY TEAM IS THE BEST!"
Brown co-hosted the event, where guests were asked to bring new, unwrapped toys for underprivileged children.
Dom DeLuca of Brooklyn Projects tells E! News, "I remember my parents sometimes struggling to put gifts under the tree for me as a kid so I feel for parents that struggle and especially for the kids."
He added, "After Chris helped out with my Philippines Typhoon Relief efforts a few moths ago, it just made sense to ask him to participate in the Toy Drive. He's been a part of Brooklyn Projects since he was 17."
The R&B star was ordered to remain in his treatment facility Dec. 16, where he's been completing 24 hours of community service a week, after his probation was provoked Dec. 16 in light of his October arrest for alleged assault in Washington D.C.
But, was given a "day pass" to attend the event.
Following the toy drive, Brown headed right back to rehab, according to Gossip Cop.
—Reporting by Senta Scarborough and Marcus Mulick
Originally published Dec. 22, 2013 at 8:53 p.m.