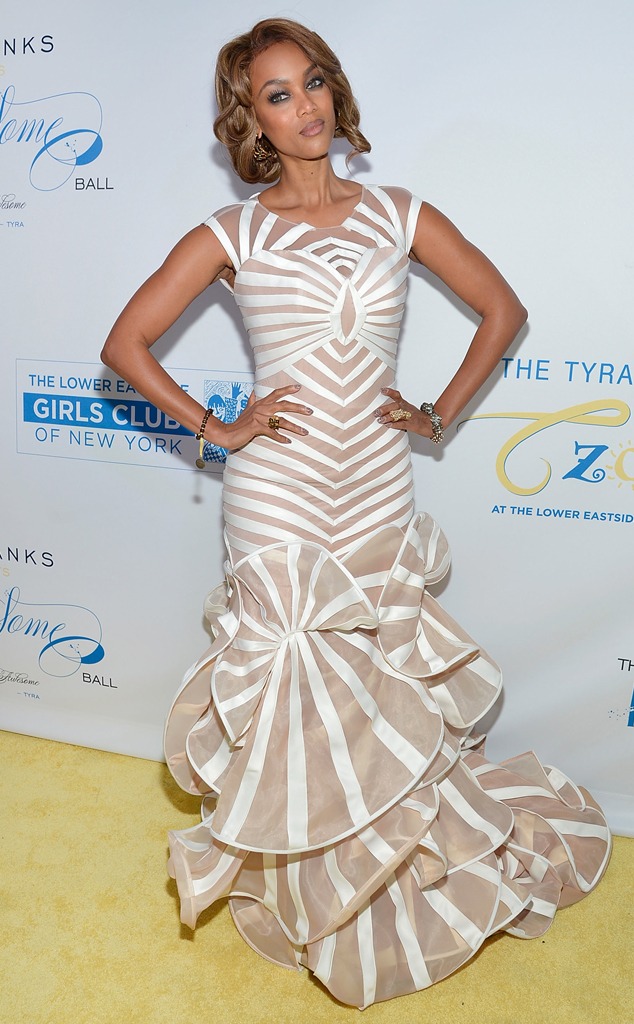 Mike Coppola/Getty Images for Tyra Banks
Next time someone calls you plus-size, you just shoot them a look and say, "I'm fiercely real. Tyra Banks said so." And then you sashay away.
The former supermodel and America's Next Top Model host, who is currently on a campaign with Special K to ban fat talk and promote positive body image, explained during a recent interview with Huff Post Style that using labels to separate women by their body size is harmful, and called out one popular phrase in particular.
"I don't like the label 'plus-size'," Banks said, and offered a different term to use instead.
"I call it 'fiercely real.' On Top Model, we call it fiercely real. I don't want to use the term 'plus-size,' because, to me, what the hell is that? It just doesn't have a positive connotation to it. I tend to not use it," Tyra added.
The 40-year-old celeb stays true to her beliefs, too. In 2008, Tyra crowned Whitney Thompson the winner of Top Model Cycle 10, with the press labeling her as the show's first "plus-size" victor.
Banks then launched the "Fiercely Real Model Search" for plus-size teens two years later. Tyra hopes that incorporating more diverse body types will become the norm, saying, "We just need to make sure it's not a trend and that it's something that's normal, because this stuff comes in waves and it would be nice to see it become constant."
AP Photo/Abraham Caro Marin
Speaking of body image issues, Oscar winner Jennifer Lawrence, who was previously deemed "fat" by Hollywood standards, believes the media should be held accountable for bashing people for their figure.
"I just think it should be illegal to call somebody fat on TV," the Hunger Games heroine told Barbara Walters in an interview for the ABC News special, Barbara Walters Presents: The 10 Most Fascinating People of 2013. "Because why is humiliating people funny?"
"I get it, and, and I do it too, we all do it," Lawrence continued. "But I think when it comes to the media, the media needs to take responsibility for the effect that it has on our younger generation, on these girls who are watching these television shows, and picking up how to talk and how to be cool, so then all of a sudden being funny is making fun of the girl who's wearing an ugly dress."
Preach, ladies.