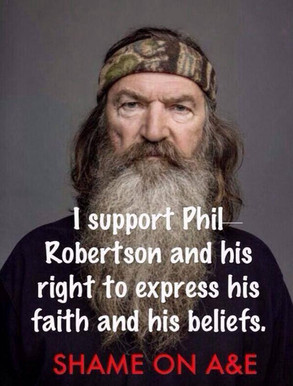 Bristol Palin/Facebook
Like mother, like daughter.
On the heels of Sarah Palin coming out in defense of Duck Dynasty star Phil Robertson after he was "indefinitely suspended" from the A&E reality show in light of his anti-gay remarks he made in a GQ interview, Bristol Palin is now taking a similar stance.
The 23-year-old mother-of-one has posted a photo of Robertson on her Facebook page with a caption that reads, "I support Phil Robertson and his right to express his faith and his beliefs. Shame on A&E."
She also took to her blog to write a lengthy essay titled "Leave Phil Robertson Alone!" and stating, in part, "I think it's so hypocritical how the LGBT community expects every single flippen person to agree with their life style. This flies in the face of what makes America great - people can have their own beliefs and own opinions and their own ways of life. Everyone needs to treat others like God would, with love. It goes both ways."