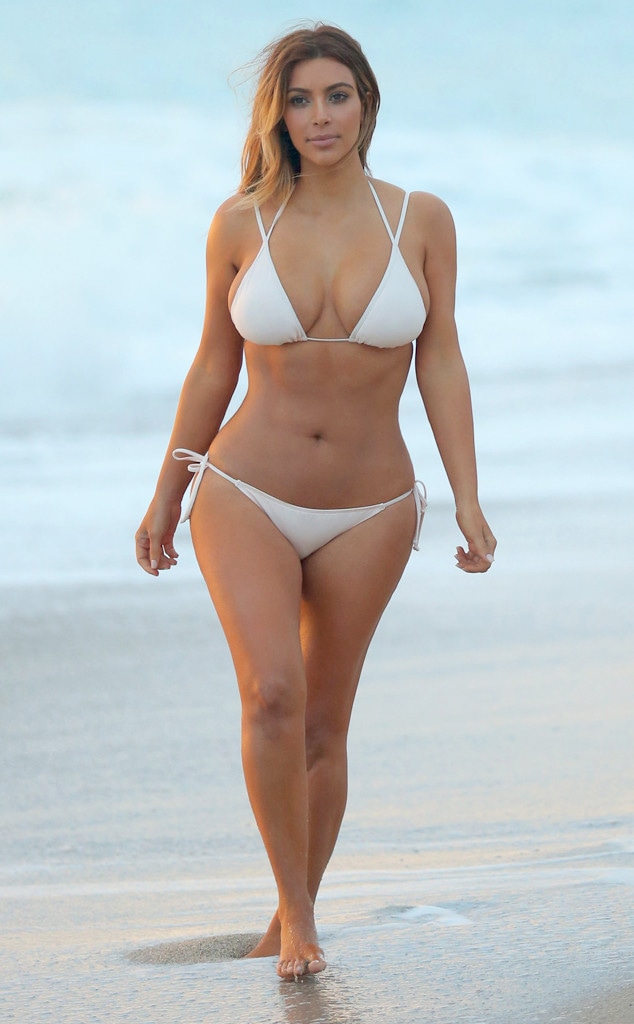 Brian Prahl/Splash News
It's been a long time since Kim Kardashian has worn a bikini—too long, in fact. On the morning of Nov. 30, however, she unwittingly unveiled her post-baby body in Miami when she donned a sexy L*Space two-piece. The 33-year-old took a morning stroll with Jonathan Cheban and another pal when she was snapped by the paps and returned to her hotel.
The Keeping Up With the Kardashians star saw the pictures splashed on the cover of a magazine the following week. "We were in Miami for [fiancé Kanye West's] tour and my friends and I had a morning off and we're like, 'Let's go to the beach,'" she told E! News at The Hollywood Reporter's Women in Entertainment Breakfast on Dec. 11. "We got to the beach, we turn around and we see all this paparazzi. I was like, 'Nope, we're not going to the beach.' We walked in and I was like, 'I don't think I'm ready yet, I don't want to be seen...I'm not bikini-ready yet!"
"I saw one photo," she admitted. "It was OK. I think I still have about 10 pounds to go."
No need to be modest! She looks happy and healthy, and that's all that really matters.
North West's mama also said she no longer follows the Atkins Diet to the letter, but she has cut back on carbs. "As you get older and your body changes, you just can't eat the way you used to. So I'm training myself and I work out," she said. "You know, I love Pilates. I love running. Now that we're on the road, just any gym in any hotel, I just go for it."
The constant scrutiny surrounded her pregnant body took a toll on the fashion mogul, who has lost more than 50 pounds since giving birth on June 15. For a brief time, Kardashian even wondered if she would ever get her body "back to normal" again.
She shut those thoughts out and committed herself to eating right and exercising regularly. "I stuck through with it," Kardashian said. "I was so proud of myself for doing that."