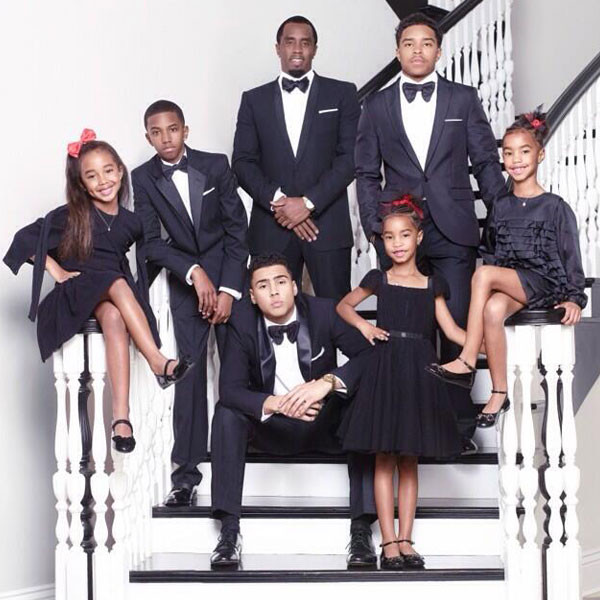 Twitter
Christmas is just around the corner!
Which means there are more celeb holiday cards comin' our way, and while they're not nearly as over-the-top as the Kardashian Christmas card, we still enjoy taking a peek at stars and their families over the holiday season.
Sean "Diddy" Combs is the latest celeb to take to Twitter to share his family's holiday card, posing with his children, who are all impeccably dressed in their best winter wear.
Papa Combs poses in the middle of his brood, who are all perched on a giant staircase while his three daughters, Jessie, D'Lila, and Chance, rock red bows in their hair and pretty black dresses as his sons, Justin and Christian, along with stepson Quincy, sport matching tuxes with their famous father.
"Happy Holidays! Love, The Combs Family," the 44-year-old proud parent captioned the sweet photo.
Howard Stern's wife, Beth Ostrosky Stern, also took to social media to share her silly holiday card with her hubby, proving Mena Suvari's not the only one who can pull off a creepy (and LOL-worthy) Christmas card.
The radio host hilariously cross-dresses for the front of the card, sporting a Santa dress, black patent pumps, tights, a black wig, a Santa hat and even red lips (dude really went all out).
And of course, Stern is sitting on Santa's lap, giving the camera a creepy glare while Beth gives her best Kris Kringle impression as she's barely recognizable in her big red suit and snowy white beard.
"Front of our holiday card," the blond beauty captioned the pic.
Luckily, the lovebirds spread a bit more holiday cheer with the inside shot from their card, which features the happy couple sans costumes (well, at least half), smiling and laughing together.
"Inside photo" Mrs. Stern wrote of the precious pic, which features the duo posing with presents as Beth still rocks her Santa pants while Howard seemingly hasn't wiped off the remainder of his red lipstick.
Too cute. Happy holidays to all!