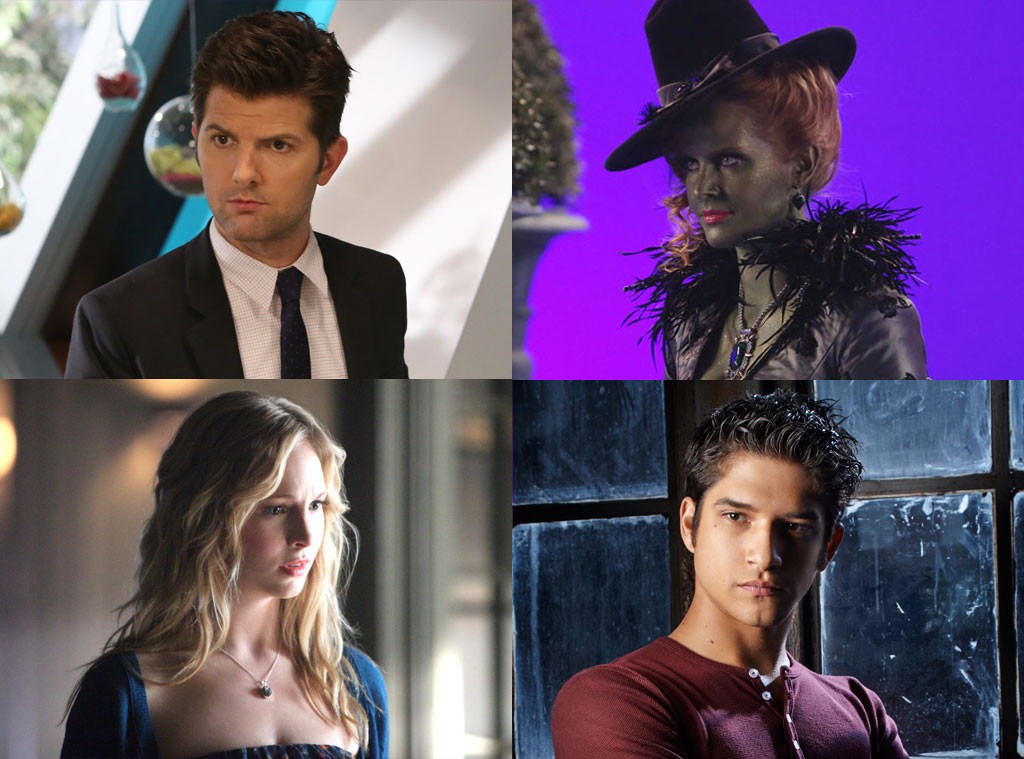 The temperatures are dropping. The days are shorter. There's very little new on TV. Winter rerun blues have you down? Well, we have the perfect cure for that: Spoilers!
We've got scoop on the big Parks and Recreation exits, Pretty Little Liars and Teen Wolf. Plus the latest from The Following, The Blacklist and Once Upon a Time. We've got details on new characters, romances and a ladies' night! The scoops will save you from winter rerun doldrums!
Megan: Can't wait for The Following to come back! Any scoop on my favorite Mike Weston?

Yes, but you might not want to hear it! "With regards to last year and everything that happened with all the brutality and the horrific events he witnessed and was a part of, that's nothing compared to what happens this year for him," executive producer Kevin Williamson teases. "He really does get pushed to the absolute limits of his sanity and his ability to cope with something."
Keegan: Teen Wolf's season premiere is so soon! What can we expect?

While Allison seems to be moving on with Isaac, Scott may also have his eye on someone else in season 3B: Beacon Hills High's new girl Kira! "There's definitely something going on there…in the midst of all the chaos, there's gotta be a little love and romance," Arden Cho teases. "There's a little bit of something there."
Shania: TVD me right now!

A new hottie is enrolling at Whitmore after winter break! And he'll be spending time with Caroline! Except he's so not into her in that way as Luke, handsome and sarcastic, is gay. And also happens to have a sister on campus, one that he will do (or sacrifice) anything to protect.
 
Becca: The Originals is my new favorite show. What's coming up after the break?
It's ladies' night! Yes, the ladies in New Orleans will be taking over in episode 10 (which also happens to feature a tasty little flashback for Rebekah that explains one of the city's great myths). "It's nice, especially with a show where there's two very strong male figures, for a whole episode specifically about the girls," Phoebe Tonkin spills. "It's about time, being like, enough is enough. We're doing to do our own thing. Especially when you have Davina, who is the most powerful and you have Rebekah who is the most powerful vampire, man or woman, it's about time we kind of acknowledge that."
Lexi: I need an update on The Blacklist's Ressler ASAP. He was not looking too good!

Oh, you mean after getting shot in the leg and almost dying before being fixed up by Red? Yeah, that's pretty much the definition of "not looking too good," so we're happy to report Ressler will fully be back in action when the series returns. And he'll have a new accessory with him: a cane. But it won't prevent him from chasing down perps, getting shot at, trading quips with Liz, etc.
George: In desperate need of OUAT scoop, especially anything on the spin they'll be putting on The Wizard of Oz!

Pack your bags 'cause we're hitting the yellow brick road. Sources tell us the show is actually going to Oz. Producers are in the process of figuring out what they can and can't use, based on what comes from the books, the movie or the Broadway musical. Most of what we see will be taken from the books, like the flying monkeys!
Lyndsey: I heard that the winter premiere of Pretty Little Liars is really good! Are we going to get any Ezria scenes?
Brace yourselves, Ezria fans, because you're about to get smacked in the face with a whole lot of emotions: Rage. Curiosity. Denial. Excitement. You may even swoon once or twice. Ian Harding has perfectly mastered Ezra's new hot/creepy vibe and there's no denying that Aria is totally picking up the crazy that he's putting down. Better watch yourself, Miss Montgomery, there's no cell service in your new little love shack...
Julia: I'm not ready to say goodbye to Rob Lowe and Rashida Jones on Parks and Recreation! Any scoop to ease my broken heart?
Well, the auditing bros, Butch Countsidy and the Sumdance Kid, will get a nice farewell. "It was really kind of sad, but our characters get a nice goodbye," Adam Scott tells E! News. Scott and Lowe's characters both came to Pawnee together at the end of season two to save the town from budgetary collapse…the rest is history.