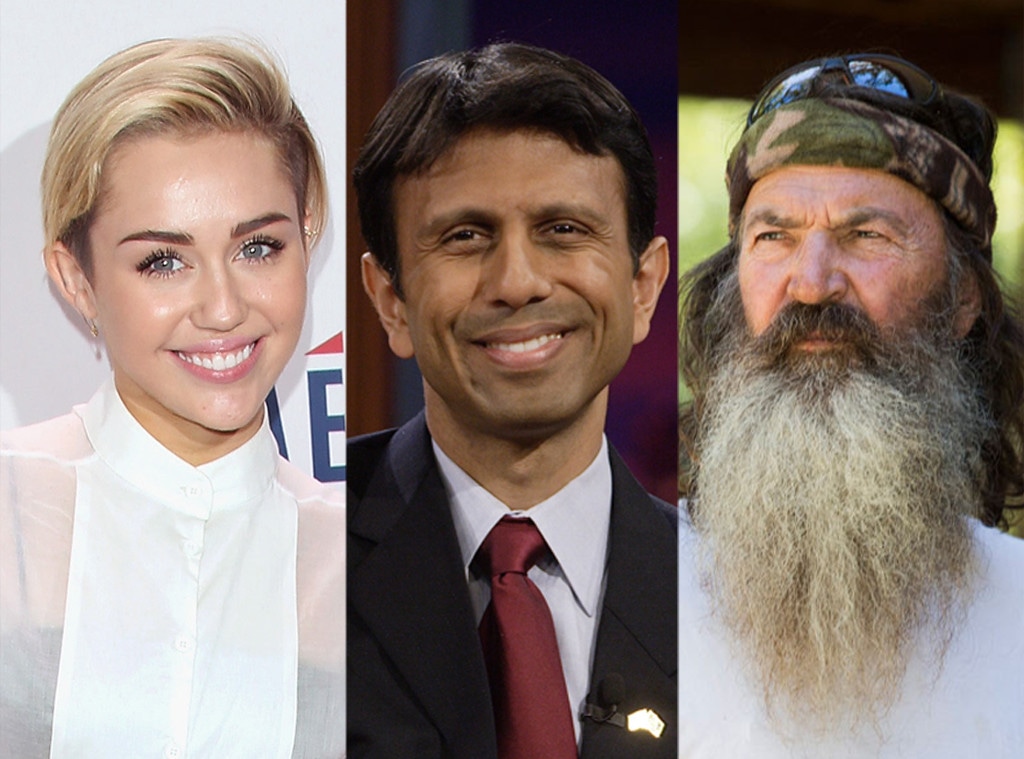 A&E/Paul Drinkwater/NBCU Photo Bank/Jim Spellman/WireImage
Duck Dynasty star Phil Robertson has the support of former Governor of Alaska Sarah Palin and current Governor of Louisiana Bobby Jindal. Shortly after the outspoken 67-year-old was "indefinitely suspended" from his family's A&E reality show on Wednesday, Dec. 18, both Republican politicians released statements in defense of the conservative Christian TV star.
"Phil Robertson and his family are great citizens of the State of Louisiana. The politically correct crowd is tolerant of all viewpoints, except those they disagree with. I don't agree with quite a bit of stuff I read in magazine interviews or see on TV," said Jindal, who began serving as governor in 2008. "In fact, come to think of it, I find a good bit of it offensive. But I also acknowledge that this is a free country and everyone is entitled to express their views."
Jindal continued, "In fact, I remember when TV networks believed in the First Amendment. It is a messed up situation when Miley Cyrus gets a laugh, and Phil Robertson gets suspended."
Palin, meanwhile, took to Facebook and Twitter to express her concern. "Free speech is an endangered species," she wrote. "Those 'intolerants' hatin' and taking on the Duck Dynasty patriarch for voicing his personal opinion are taking on all of us."
By contrast, Equality Lousiana praised the network's decision. "A huge thanks to A&E for standing up for LGBT people in Louisiana and across the country following Phil Robertson's outlandish and hateful remarks in his recent GQ interview," the group wrote on Facebook.
On Fox News Channel's Hannity, political pundit Sean Hannity argued that it was a "slippery slope" to fire people over things they said. He pointed out that he never advocated for the firings of liberals—including Alec Baldwin—who also got in trouble for controversial comments regarding homosexuals.
The Kelly File's Megyn Kelly said she wished A+E Networks executives would have used Robertson's comments as an opportunity to start a larger "discussion" about free speech and evolving Christian values instead of telling Robertson, "'You are fired.'"
(Editor's note: Robertson has not been fired; he has been suspended.)
Kelly argued that fundamentalist Christians and the LGBTQ community have yet to learn from each other because such discussions have not taken place.
"Fundamentalist Christians don't believe in homosexuality and they've been so critical of it. And the gay and lesbian community has said 'that's intolerance' and then [Christians] say, 'Well, you're being intolerant of our beliefs.' We've seen this clash over and over. [It's] yet to be resolved."
Prior to his suspension, Robertson issued a statement regarding the views he expressed in a January 2014 GQ profile.
"I myself am a product of the '60s; I centered my life around sex, drugs and rock and roll until I hit rock bottom and accepted Jesus as my Savior. My mission today is to go forth and tell people about why I follow Christ and also what the bible teaches, and part of that teaching is that women and men are meant to be together," he told E! News. "However, I would never treat anyone with disrespect just because they are different from me. We are all created by the Almighty and like Him, I love all of humanity. We would all be better off if we loved God and loved each other."