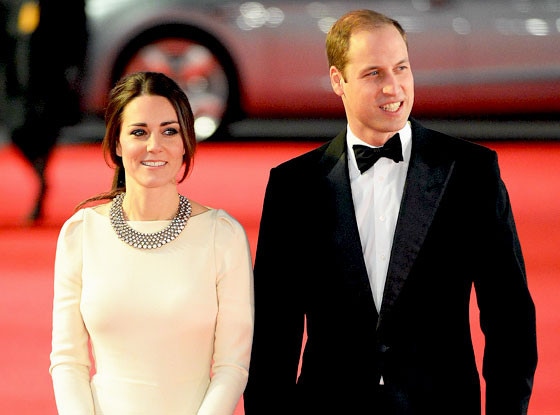 REX USA/Tim Rooke/Rex
According to evidence, Kate Middleton's voicemails were hacked by the now defunct Rupert Murdoch-owned News of the World while she was dating Prince William.
Clive Goodman, the royal editor from the former English tabloid, had recordings left by the future king for his then girlfriend, a London court was told on Thursday, Dec. 19.
During the somewhat intimate messages, Prince William refers to his ladylove as "babykins" and reveals he was almost shot by blank rounds during a military exercise.
This is the first time the jury has heard that the Duchess of Cambridge's phone was hacked during the trial.
"Hi baby, it's me," the Duke of Cambridge says to Kate in one recording. "Sorry I've just got back in off my night navigation exercise, I think I missed you by about ten minutes."
At the time of this message, the royal was training at Sandhurst Military Academy and had limited access to his cell phone.
Danny Martindale/WireImage
"I am still up and about for the next sort of 20 minutes, so I'm going to have quick shower," he continued. "So if you've missed me don't, erm you know, keep your phone on for at least another 25 minutes or so unless you're out and having fun, which I think you are."
He explains, "I've been running around the woods of Aldershot chasing shadows and getting horribly lost and I walked into some other regiment's ambush, which was slightly embarrassing because I nearly got shot."
He then tells his girlfriend, "I might send a cheeky text message cos I might have my phone on me, but um, otherwise baby, um do try and ring me as soon as you can in the next sort of 25 minutes or so. All right baby, lots of love."
Prosecutor Andrew Edis QC told the court that Goodman emailed editor Andy Coulson with a list of results from phone hacker Glenn Mulcaire. 
Per the BBC, Coulson is on trial, along with Goodman, former chief executive officer of News International Rebekah Brooks and four others. They are accused of a conspiracy to illegally intercept voicemails. Goodman, Coulson, and Brooks are also accused of corrupting officials.
The defendants deny all the charges.
Brooks is also accused of creating a cover-up with her husband Charlie, former PA Cheryl Carter, 49, and News International head of security Mark Hanna when she was about to be arrested in 2011.
One of the stories that was used from this hacked message was a story entitled "William got shot in night exercise in Aldershot" and a feature in Goodman's Blackadder column in the paper in January 2006.
A second message left by Prince William was redacted, but he called his ladylove by the nickname "babykins." This message was recovered from Mulcaire's residence in August 2006 when he was arrested for phone hacking.
In another recording, Prince William tells Kate that he is "going to go beagling" this afternoon and says he might visit her afterwards.