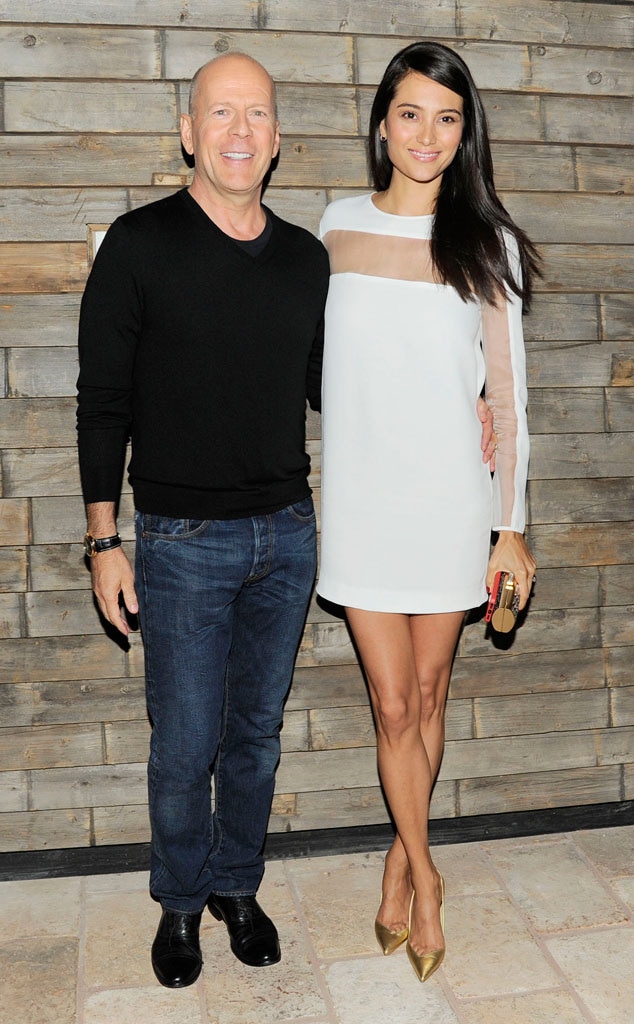 Nicholas Hunt/PatrickMcMullan.com
Just call Bruce Willis big daddy!
The actor is expecting his second child with wife Emma Heming, according to reports. In recent photos, the 35-year-old model has been sporting what those in the know are saying is indeed a growing baby bump.
She and Willis are also parents to 1 1/2-year-old daughter Mabel, and Willis is of course the father of three daughters—Rumer, Scout and Tallulah—with ex-wife Demi Moore.
It should be extra-interesting to find out the sex of Willis' fifth child, considering the Die Hard star has been literally surrounded by women on the homefront all his life.
And he's fine with that.
"It's all good, I haven't found a time yet that's bad," Willis said in an interview this summer. "I get to learn a lot more about women than most men do—because it's just me and 20 women around me."
The 58-year-old actor told Zoomer in June that having a "brand new baby daughter is an extraordinary thing—it feels like it's the first time and it's just as fun and exciting. You feel nothing but love for your child. It's really remarkable."
About Hemming, whom he married in 2009, Willis gushed: "She's a very good mother, she's very smart, and I've often said that she's smarter than me and that I defer to her judgment in most circumstances."
Willis noted at the time that the could "only imagine" what he might do differently as a father if he had a son—obviously not knowing yet that it could still be in the cards.
"I see little boys and little kids and I go, I would be protective of these guys too," the Expendables star said. "But a certain age there's something in guys that makes them say at a certain point, 'I got it, I don't need anyone to help...I don't need to be protected anymore. I'm okay.' But girls are always, 'Oh, dad...'"
A rep for the actor had no comment.
Us Weekly was first to report that Willis baby No. 5 was on the way.