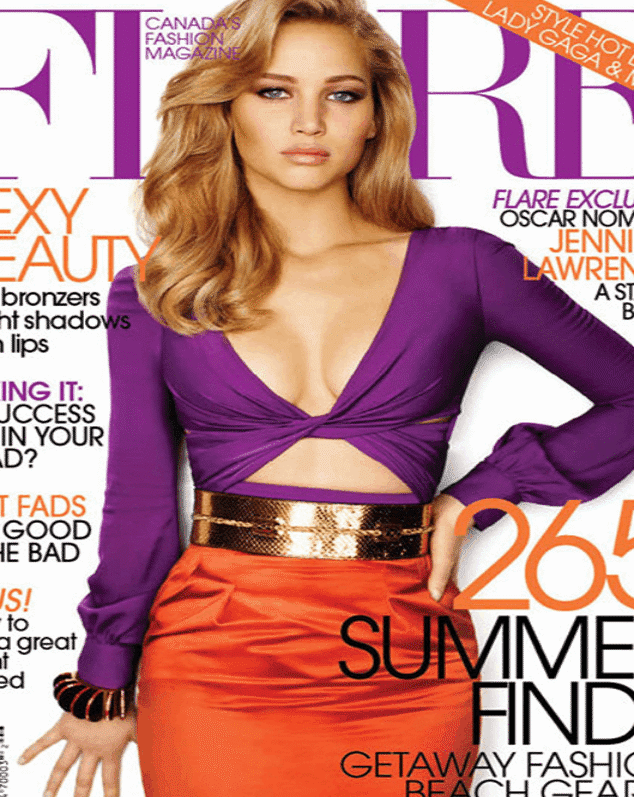 Flare Magazine
Uh-oh! It seems an old Flare magazine cover has upset Jennifer Lawrence fans. Over the weekend, a GIF surfaced that proves the Oscar winner was clearly Photoshopped for the 2011 issue.
Not only was the star's entire body slimmed down—especially around the hips and waist—but even her face was contoured to look thinner.
In no way is this the first time a magazine has used airbrushing, but in recent years a lot of publications have sworn to cut back on the unrealistic images of the female form. So unsurprisingly this example of old practices has upset quite a lot of people.
No doubt, J.Law herself isn't pleased with the magazine's makeover. Just last month, the Hunger Games: Catching Fire star shared her views on body images with the BBC.
"When we were doing the first The Hunger Games, it was a big discussion, 'cause it's called The Hunger Games—she's from District 12, she's obviously underfed, so she would be incredibly thin. But, I just kept saying, 'We have the ability to control this image that young girls are going to be seeing,'" she said. "Girls see enough of this body that we can't imitate, that we'll never be able to obtain, these unrealistic expectations, and this is gonna be their hero, and we have control over that," she explained. 
Lawrence went on to share that she's even refused to lose weight for roles because she truly believes "It's better to look strong and healthy."
Plus, there's also the most obvious point of all: J.Law looks amazing just the way she is.