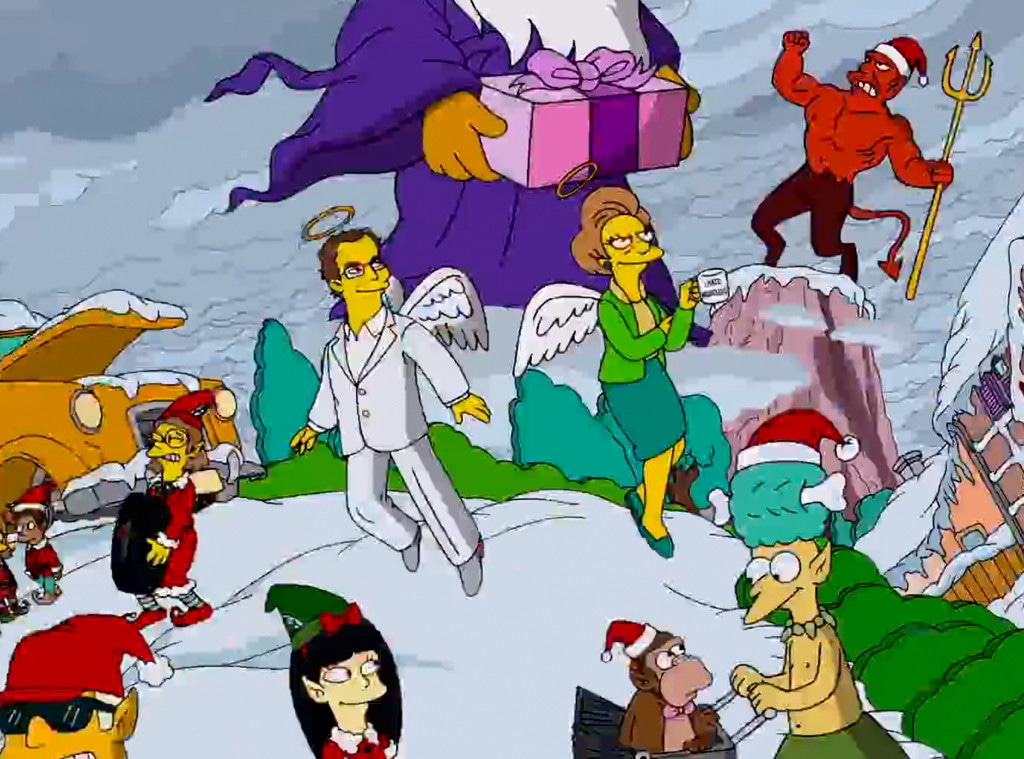 Fox
Chances are you missed a heartwarming Simpsons tribute from the Sunday, Dec. 15 episode of the hit Fox animated comedy. In the opening couch gag titled "White Christmas Blues," The Simpsons not only paid tribute to Seinfeld and the grand tradition of Festivus, but it also had a nice little moment for Mrs. Krabappel, Bart's teacher played by the late Marcia Wallace. In the blink-and-you'll-miss-it scene, Mrs. Krabappel is featured as angel with her signature no nonsense arm-crossed stance next to late Simpsons writer Don Payne.
"[W]e wanted to do a tribute to two terrific people, Marcia and Don," Simpsons executive producer Al Jean told E! News in a statement. "The episode was sadly, Don's last."
Eagle-eyed fans on IGN spotted the two in the couch gag. This isn't the first time—and probably won't be the last—that The Simpsons has paid tribute to Wallace and her beloved character. In the episode following Wallace's passing, The Simpsons featured a solemn Bart Simpson writing a single line at the chalkboard: "We'll really miss you, Mrs. K."
Payne passed away in March. Wallace passed away at the age of 70 in October from complications from pneumonia. Her character will be retired. "I was tremendously saddened to learn this morning of the passing of the brilliant and gracious Marcia Wallace," executive producer Jean said in a statement following Wallace's passing. "She was beloved by all at The Simpsons and we intend to retire her irreplaceable character. Earlier we had discussed a potential storyline in which a character passed away. This was not Marcia's Edna Krabappel. Marcia's passing is unrelated and again, a terrible loss for all who had the pleasure of knowing her."