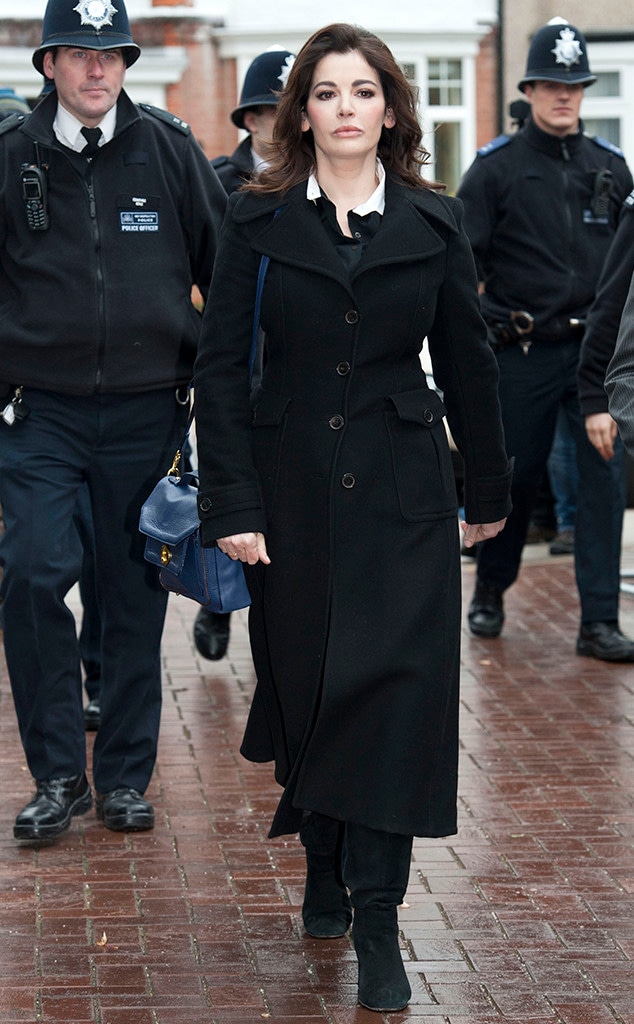 Mirrorpix / Splash News
And the Nigella Lawson courthouse bombshells just keep on coming.
The celebrity chef took the stand as a witness last week in the fraud trial of her former assistants, Francesca Grillo and Elisabetta Grillo, who are charged with allegedly defrauding Lawson and ex-husband Charles Saatchi out of more than £300,000 ($484,600) while under their employment.
The sisters, who worked for Lawson for more than 10 years and deny the accusations, continued their testimony today and opened up further about Lawson's alleged drug use, which has come to light in the case after the Grillos claimed—as part of their defense—that Lawson authorized them to freely use Saatchi's company credit card in exchange for their silence regarding her purported substance abuse.
Per Central News, the Isleworth Crown Court heard testimony today that implied Nigella Lawson allowed her children to smoke cannabis, just one week after the domestic goddess testified that she had smoked weed "relatively recently" and in front of her two children, but added she had only used drugs once during her 10-year marriage to Saatchi, in July 2010.
Dave M. Benett/Getty Images
Elisabetta Grillo made the accusation after telling jurors that the television personality also endorsed the buying of cigarettes for her underage children while being asked about a £70 ($114) duty free payment at JFK Airport in NYC.
"What on earth do you think you were doing buying cigarettes for underage children?" prosecutor Jane Carpenter asked Lawson's former assistant.
"Well, if Nigella Lawson let them smoke weed...," she replied before Judge Robin Johnson abruptly cut her off and ended Carpenter's line of questioning.
Among the other shocking revelations?
Sam Sharma/PacificCoastNews.com
Elisabetta also claimed in court today that Saatchi would order members of Team Cupcake to buy hundreds of copies of his book in order for his work to land on the best-seller list. Saatchi republished his 2009 book My Name Is Charles Saatchi And I Am An Artoholic last year.
Grillo told jurors she would withdraw up to £200 ($325) on a Conarco credit card linked to Saatchi's personal account to make the purchases.
"So are you saying that Charles Saatchi gave you £200 to buy copies of his book so it would go up the book list?," Carpenter asked.
"Yes. I went on my break in a taxi from east London to west London buying books—it was like four times a week," Grillo responded, adding. "Not only me. The other girls would buy the book from Amazon and on websites with their Conarco cards."
Grillo also alleged that Lawson and Saatchi would pay her to take their children away on expensive holidays and insisted she was allowed to make personal purchases on the credit card connected to Saachi's account because she was "part of the family."
"I would never do that," she said after Carpenter claimed she took advantage of Lawson and Saatchi. "Not to Nigella and not to Charles—especially Charles, it was his card."
Lawson has admitted to past use of both cocaine and cannabis during the headline-making trial, but insists she is not a "habitual drug user."
—Reporting by Lindsay Good