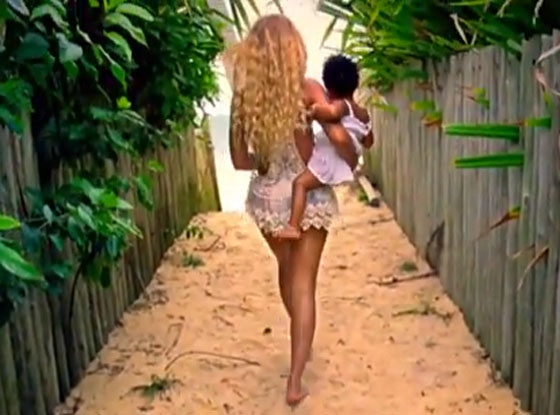 Youtube
When does Beyoncé find the time? In the midst of her Mrs. Carter Show World Tour, the 32-year-old diva managed to record an entire album—and keep it a secret—in addition to shooting 17 music videos. She dropped Beyoncé, her fifth studio album and first visual album, exclusively on iTunes on Friday, Dec. 13. Featuring 14 new tracks (including collaborations with Jay Z, Drake, Chimamanda Ngozi Adichie and Frank Ocean) the album arrives just as she wraps up her yearlong concert series.
"I see music," Beyoncé says of her decision to create a visual album. "It's more than just what I hear. When I'm connected to something, I immediately see a visual or a series of images that are tied to a feeling or an emotion, a memory from my childhood, thoughts about life, my dreams or my fantasies. And they're all connected to the music."
She continues, "I didn't want to release my music the way I've done it. I am bored with that. I feel like I am able to speak directly to my fans. There's so much that gets between the music, the artist and the fans. I felt like I didn't want anybody to give the message when my record is coming out. I just want this to come out when it's ready and from me to my fans."
The double disc CD/DVD will be available at retail in time for the holidays. Beyoncé began recording new music in the summer of 2012 in New Yorks The Hamptons. She worked with a wide range of singers, lyricists, producers, stylists, photographers and directors to bring her vision to life. Some of them include Timbaland, Justin Timberlake, Pharrell Williams, The-Dream, Sia, Ryan Tedder, Miguel, Hit Boy, Ammo, Boots, Detail, Jake Nava, Hype Williams, Terry Richardson and Jonas Åkerlund.
Beyoncé used places like New York City, Houston, Paris, Sydney and Rio de Janeiro as backdrops for her music videos. "I just want to give my album to the people I love and respect and hope that they feel the same thing I felt when I made the music," she says.
"Pretty Hurts" | Directed by Melina Matsoukas
"Ghost" | Directed by Pierre Debusschere
"Haunted" | Directed by Jonas Akerlund
"Drunk in Love (feat. Jay Z)" | Directed by Hype Williams
"Blow" | Directed by Hype Williams
"No Angel" | Directed by @lilinternet
"Yoncé" | Directed by Ricky Saiz
"Partition" | Directed by Jake Nava
"Jealous" | Directed by Beyoncé, Francesco Carrozzini and Todd Tourso
"Rocket" | Directed by Beyoncé, Ed Burke and Bill Kirstein
"Mine (feat. Drake)" | Directed by Pierre Debusschere
"XO" | Directed by Terry Richardson
"***Flawless (feat. Chimamanda Ngozi Adichie)" | Directed by Jake Nava
"Superpower (feat. Frank Ocean)" | Directed by Jonas Åkerlund
"Heaven" | Directed by Beyoncé & Todd Tourso
"Blue (feat. Blue Ivy)" | Directed by Beyoncé, Ed Burke and Bill Kirstein
"Grown Woman" | Directed by Jake Nava