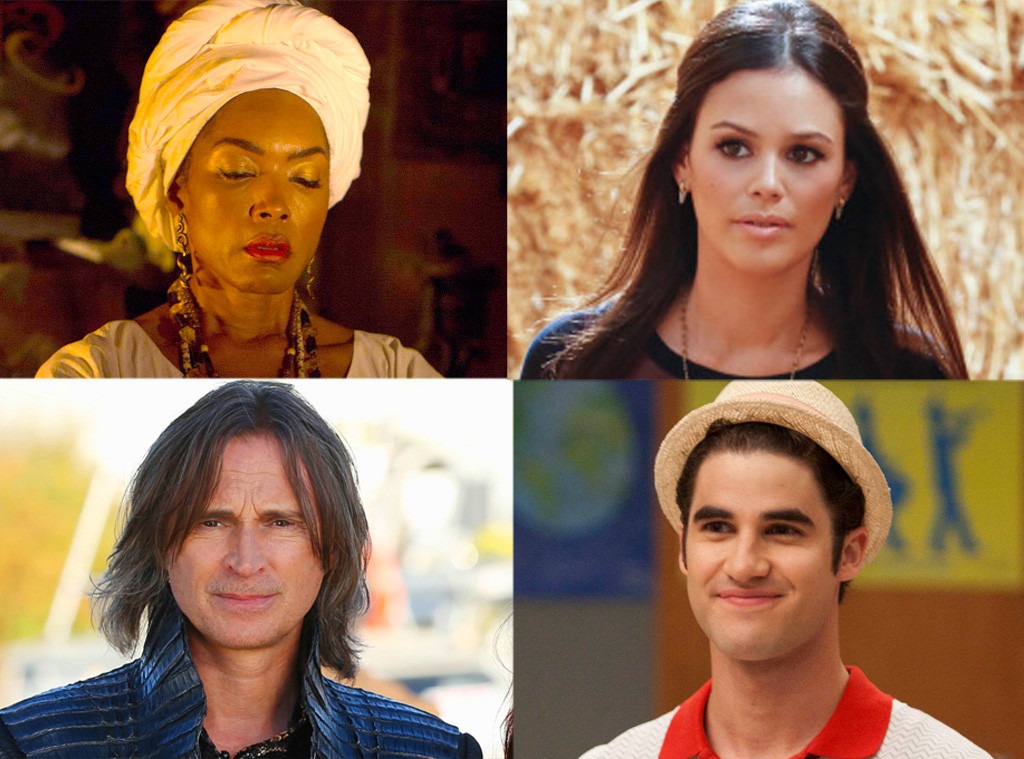 FX; CW; ABC; Fox
Christmas came early, spoiler fans! Have you finished reeling from the latest American Horror Story: Coven yet? Hungry for some Glee and Good Wife scoop? We've got all that and more, including spoilers on Once Upon a Time, Hart of Dixie and Shameless in today's Spoiler Chat.
Buckle up!
Megan: So excited that Anders Holm is coming back to The Mindy Project! Please tell me Mindy is getting back together with Casey!
Sorry, no can do as Mindy is still dating Cliff when she bumps into her ex (literally) while on a trip to Los Angeles. So what is Casey up to? Well, he's not a pastor, he's not a DJ, he's not an event planner, he's selling shoes. So maybe Mindy made the right call in ending their engagement after all?
Mark: We only have a handful of American Horror Story episodes left this season! What's next for the Coven ladies?
Well, those witchy ladies are as tight-lipped as can be, but you will see something you haven't seen in a long time when the show returns in January.
"I get so nervous about what to say and what not to say," Gabourey Sidibe says. "One thing I can say is that you will see all of us under one roof again." Yep, all the witches, including Angela Bassett's voodoo queen. Talk about an alliance! But is the next Supreme there? The cast doesn't even know. "We all ask each other—we all have our own theories about who the next Supreme is and what's going to happen," Sidibe tells us. "Every time we read an episode we run to each other or text each other and go, 'Oh my god, you know what happens!?' Then we try to figure out the story ourselves. None of us have any answers."
Claire: That Glee Christmas episode was particularly painful to watch. Got any scoop that will brighten my holiday spirit?
Get excited, Glee fans because one of our most talented characters will be meeting with a group of record producers! We're not going to tell you who it is—you'll get to unwrap that gift later—but we can tell you that this will be a meeting of a lifetime.
Shirley: I am missing The Good Wife. What's coming up in the new year?
We know one thing for sure: flashbacks! See the picture above of new Golden Globe nominees Julianna Margulies and Josh Charles. Recognize that hair? It's Alicia flashback hair! Sources confirmed that there is a mighty flashback coming our way in 2014.
Tyler: Hit me up with some Shameless scoop, it's my favorite show.
The Gallaghers may be swimming in cash for the first few episodes of the season, but something tells us that their financial fortune is going to take a turn for the worse. In our exclusive first look at Shameless' fourth season, you saw that Fiona's flirtations with her cup company boss have definitely escaladed. However, hooking up with the CEO's son, is probably not the best way to secure your job. Better watch out Fi, we know that you'll be visiting some HR reps in episode nine …
Miles: Are we going to see any changes in Pan's relationship with Rumple in the next episode of Once Upon a Time?
Funny you should ask! We just got off the phone with the TV's most evil 17-year-old, Robbie Kay, and he tells us that we will definitely see some father/son shifts in this Sunday's brand-new episode. "You are going to see a change in the relationship in the mid-season finale. So they will touch upon that and it will be very interesting to see where they go from there in terms of their relationship as the season progresses." Hmm, perhaps this means that Pan will be sticking around after the winter hiatus? We're currently crossing our fingers and toes and hoping for a yes!
Maguerite: Trophy Wife is so charming and underrated. I'd love some scoop on what's ahead!
Prepare to meet the trophy wife's trophy mom! Yes, Kate's mom will be introduced later this season and could potentially recur. Cricket will make quite the debut as the fun and raucous party girl (So basically a pre-pilot Kate!) is arrested while flying in from Canada. Any casting suggestions for Malin Akerman's fictional mama?
Hilary: Hart of Dixie spoilers are desperately needed, please and thank you!
Ever wondered what the French version of Bluebell would be like? Well, your dreams are about to come true as the Mayor and Deputy Mayor of ChlocheBleu will be visiting their sister city in episode 16. While Deputy Mayor Jean Claude will have his eye on one of our favorite Southern Belles, mayor Eloise, a former ballerina, may not take as much of a liking to the charming town we've grown to know and love.
GOT TV QUESTIONS? Tweet them to @kristindsantos with hashtag #spoilerchat!
SPOILER CHAT comes out every Monday, Wednesday and Friday at 9 a.m. ET/6 a.m. PT. Bookmark the link!