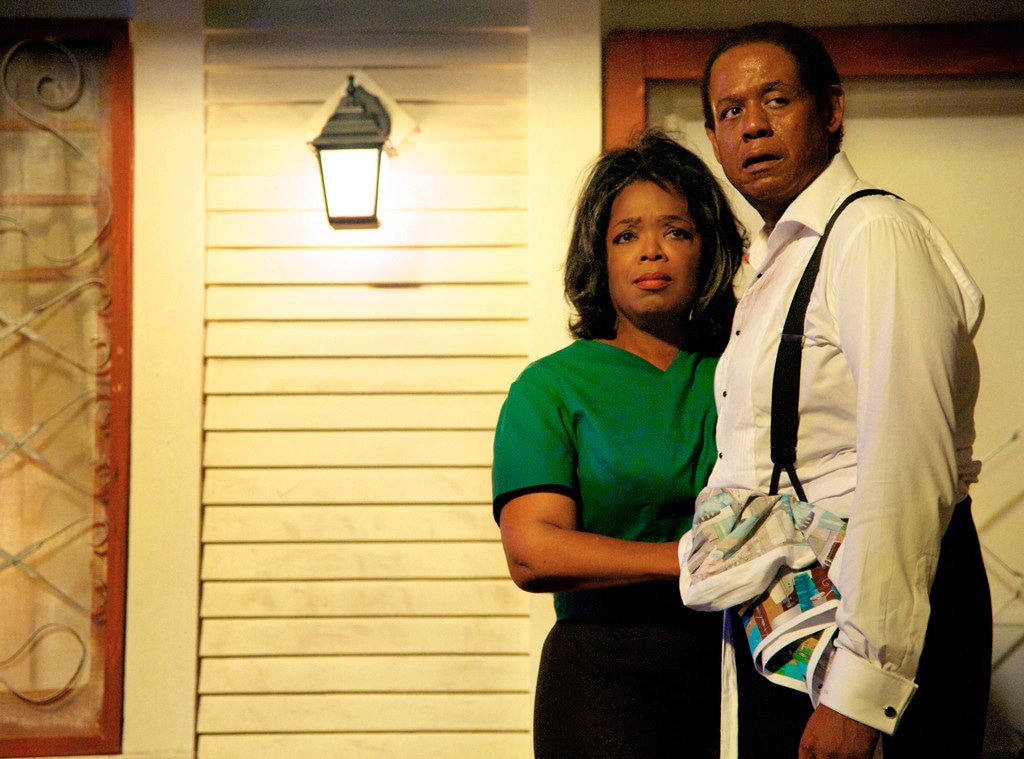 Anne Marie Fox © 2013 The Weinstein Company
The 71st Annual Golden Globe Award nominees were revealed on Thursday, Dec. 12, with Matthew McConaughey, Lupita Nyong'o and Tom Hanks scoring nods in their expected categories. Some announcements proved to be redemptive (Best Actor in a Motion Picture Musical or Comedy nominee Leonardo DiCaprio is being overlooked by the Screen Actors Guild Awards) while others were befuddling (Lee Daniels' The Butler didn't score a single nod after racking up three at the SAG Awards).
Here, E! News looks at some of this year's biggest snubs and surprises at the 2014 Golden Globes.
While it's nice to see DiCaprio being recognized for his work in The Wolf of Wall Street, he also took the late James Gandolfini out of the running for his final rom-com, Enough Said. Christian Bale also secured a well-deserved nomination in the Best Actor in a Motion Picture Comedy category after failing to do so at the SAG Awards.
Lee Daniels' The Butler star Forest Whitaker was widely hailed as a frontrunner in the Best Actor in a Motion Picture Drama category, but for unknown reasons, he was ignored. Fruitvale Station's Michael B. Jordan was also hoping to earn his first nomination, but as with the SAG Awards, he didn't make the cut. Instead, 12 Years a Slave's Chiwetel Ejiofor, Mandela: Long Walk to Freedom's Idris Elba, Captain Phillips' Tom Hanks, Dallas Buyers Club's Matthew McConaughey and All Is Lost's Robert Redford will compete for the award when the Golden Globes air live on NBC on Sunday, Jan. 12, 2014.
Best Supporting Actor in a Motion Picture category is a tight race, with Captain Phillips' Barkhad Abdi, Rush's Daniel Brühl, American Hustle's Bradley Cooper, 12 Years a Slave's Michael Fassbender and Dallas Buyers Club's Jared Leto going head-to-head. Though those five men were the odds-on favorites to secure nominations, other contenders—including Nebraska's Will Forte, The Wolf of Wall Street's Jonah Hill and The Book Thief's Geoffrey Rush—would have fit right in had they been selected.
Nearly every woman expected to be feted in the Best Actress in a Motion Picture Musical or Comedy and Drama categories ended up scoring a nomination. Still, there were a few actresses who would have been just as worthy of the honor: Blue Is the Warmest Colour's Adèle Exarchopoulos, Short Term 12's Brie Larson and The Past's Bérénice Bejo, to name a few.
Perhaps the most shocking snub is Oprah Winfrey's absence in the Best Supporting Actress in a Motion Picture category. Just yesterday, the TV mogul was nominated at the SAG Awards and honored at a Hollywood Reporter breakfast, yet the actress lost her spot to Blue Jasmine's Sally Hawkins. Other potential nominees—August: Osage County's Margo Martindale, 12 Years a Slave's Sarah Paulson and Fruitvale Station's Octavia Spencer—were rejected by the Hollywood Foreign Press Association.
In the Best Animated Feature Film category, The Croods, Despicable Me 2 and Frozen scored nominations. Monsters University, the prequel to 2001's Monsters, Inc., was noticeably absent. Produced by Pixar Animation Studios and released by Walt Disney Pictures in June, the family-friendly film earned rave reviews and has earned more than $743 million on a reported $200 million budget. Epic and Planes were also shut out.
Do you agree with this year's Golden Globes film nominees? Sound off in the comments!