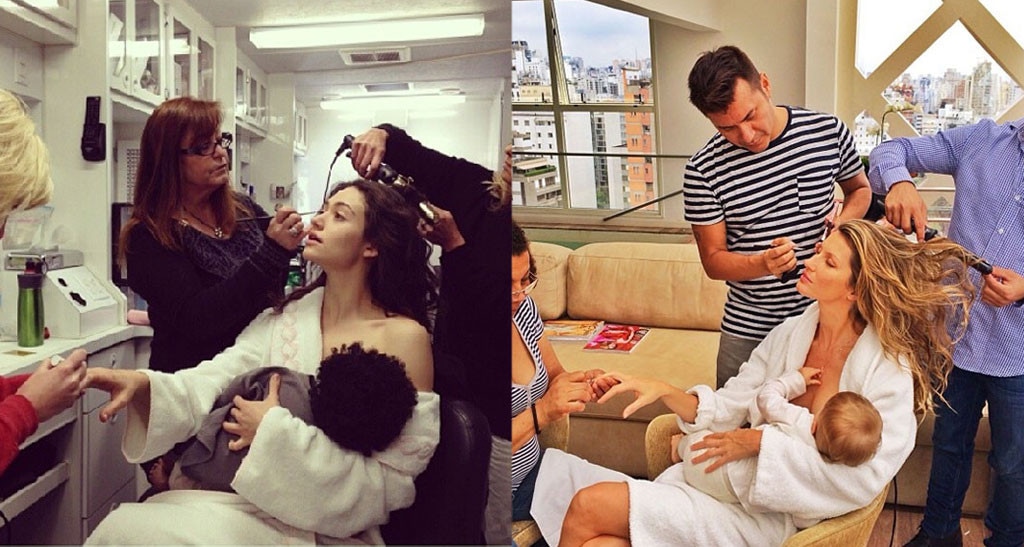 Instagram
Hey Gisele Bündchen, Emmy Rossum wants you to know that she can "feel" for you—and multitask and "nurse" a baby, too.
The Shameless star shared a rather—ahem, shameless—photo on her Instagram account on Wednesday, Dec. 11, mocking the supermodel's glam squad and breastfeeding photo from the day before.
"Hey @giseleofficial, I feel ya girl. #kidding#fakebaby#soymilk#shameless," the 27-year-old captioned the humorous snapshot.
The actress is sporting a fluffy white bathrobe, while a team works to prepare her for a scene on the comedy-drama series. Specifically, someone is applying eye makeup, another person is curling her long locks and a third is painting her nails. Just like in Gisele's pic.
Rossum is staring straight ahead with her mouth slightly open, as she holds a fake baby against her chest.
Gisele's eyes and mouth are closed, if we are really contrasting the two ladies. Ignoring the real child vs. the doll comparison, of course.
The original photo that served as Rossum's inspiration features the 33-year-old Brazilian beauty getting styled, while holding her precious 1-year-old daughter Vivian.
"What would I do without this beauty squad after the 15 hours flying and only 3 hours sleep #multitasking #gettinrready," Bündchen captioned the serene and glamorous pic that shows her nursing her toddler while simultaneously having her hair, makeup and nails done.