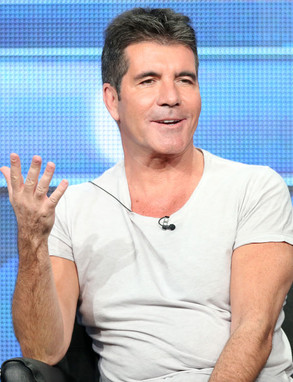 Frederick M. Brown/Getty Images
Simon Cowell and Lauren Silverman's baby boy's name will "probably be something beginning with S," the X Factor creator revealed during a Monday, Dec. 9, appearance on NBC's The Tonight Show With Jay Leno. "Think about it. That's the only name I can come up with at the moment that I like."
The dad-to-be said he might also pick the name Eric to honor his late father, who passed away in 1999.
Host Jay Leno then presented Cowell with a gift for his unborn son: a pair of high-waisted jeans, a white tee and black sunglasses. "I love that," said Cowell, who was wearing a similar outfit (per usual).