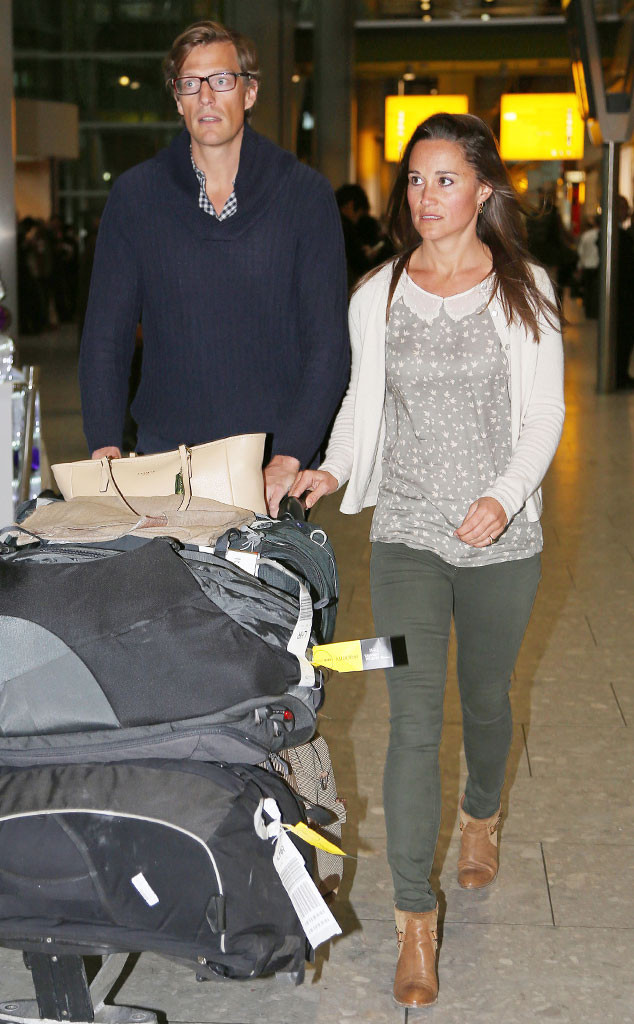 XPOSUREPHOTOS.COM
Looks like Pippa Middleton and boyfriend Nico Jackson have returned to the U.K.—and they've brought back a little sunburn as a souvenir from their vacation!
The couple was spotted touching down at London's Heathrow airport on Sunday, Dec. 8, where the twosome was snapped strolling through the terminal with a large load of luggage following their romantic trip to India.
Middleton, who appeared a bit red-faced thanks to the sun in South Asia, looked travel chic in a casual, yet stylish ensemble, sporting gray a blouse with a Peter Pan-collar from Cashmere by Tania, as well as a cream-colored sweater, skinny jeans and tan ankle boots. Her handsome man, who pushed the couple's luggage like a proper gentleman, rocked a navy sweater, jeans and Converse sneakers.
While the couple reportedly visited the Taj Mahal and clearly packed quite a bit for their trip, there was no sign of any engagement bling on Pippa's ring finger as Prince George's aunt returned from her travels.