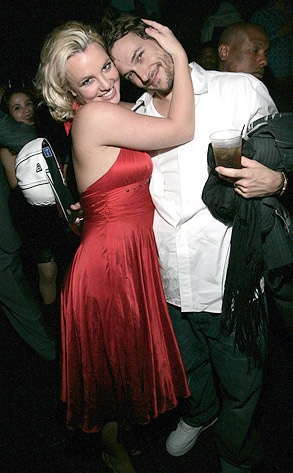 Ben Rose/WireImage.com
Too bad time travel doesn't exist! Viewers watched Britney Spears fall in love with Kevin Federline when Britney and Kevin: Chaotic aired on UPN from May 17 to June 14, 2005. The five-episode reality series, culled from home videos during the European leg of the singer's Onyx Hotel Tour, was skewered by critics and lost 1.6 million viewers during its short run on the now defunct network.
Speaking to the U.K.'s Telegraph, Spears acknowledges that it was a mistake to put her love life on camera like that. "I would never do something like that again," she says. "Actually, that was really bad. That was probably the worst thing I've done in my career."
Asked if she feels the same way about her 2002 movie Crossroads, Spears clutches her hand to her heart. "No!" she shouts, getting animated. "I like Crossroads! F--k you!"
Spears, 32, doesn't have anything bad to say about her one-season stint on Fox's The X Factor, however. (Kelly Rowland and Paulina Rubio have joined veterans Demi Lovato and Simon Cowell for Season 3.)
"I did have trouble being overly critical at times but then I'd simply remind myself to be constructive and positive versus mean," Spears says of her time as a judge. "Being able to mentor young singers was the main plus point. I think overall it was a positive experience."
The "Perfume" singer doesn't regret much during her 20 years in the spotlight—including the matching denim looks she and Justin Timberlake wore to the 2001 American Music Awards. "It was a pretty carefree time," she says. "We were just, like, 'We look great, let's go!' I have great memories of that time: there were a lot of rehearsals, but there was also a lot of clubbing and a lot of dancing."
"It was a long time ago," she adds. "But it was fun."
For even more on Britney Spears, including unprecedented inside looks at her most intimate moments and rare candid interviews with the pop superstar herself, tune in to E! News' exclusive 90-minute documentary, I Am Britney Jean, airing Dec. 22 at 8 p.m. on E!