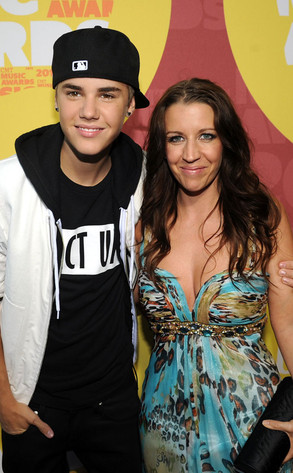 Diamond/Getty Images for CMT
Justin Bieber's mom, Pattie Mallette, decided to do a Twitter Q&A on Sunday, Dec. 8—and her answers were quite surprising. While chatting with the singer's fans online, the Nowhere But Up author dished on everything from her son's tattoos to her thoughts on becoming a grandmother.
Asked about Bieber's body art, Mallette admitted she had mixed feelings. "I wish he didn't have tattoos but I do like them. I'm torn. Weird right?" she shared. And though she's proud of her 19-year-old son's accomplishments, Malette revealed that her most cherished memories with Bieber are from when he was a little boy—particularly those that occurred at bedtime. "I would tuck him in, read to him, pray with him & talk & giggle sometimes for an hour or more. *sigh. I miss that!" she wrote.
(Fun fact: Bieber's first word was "money," according to Mallette. "Instead of Mommy he said Money & Daddy!")