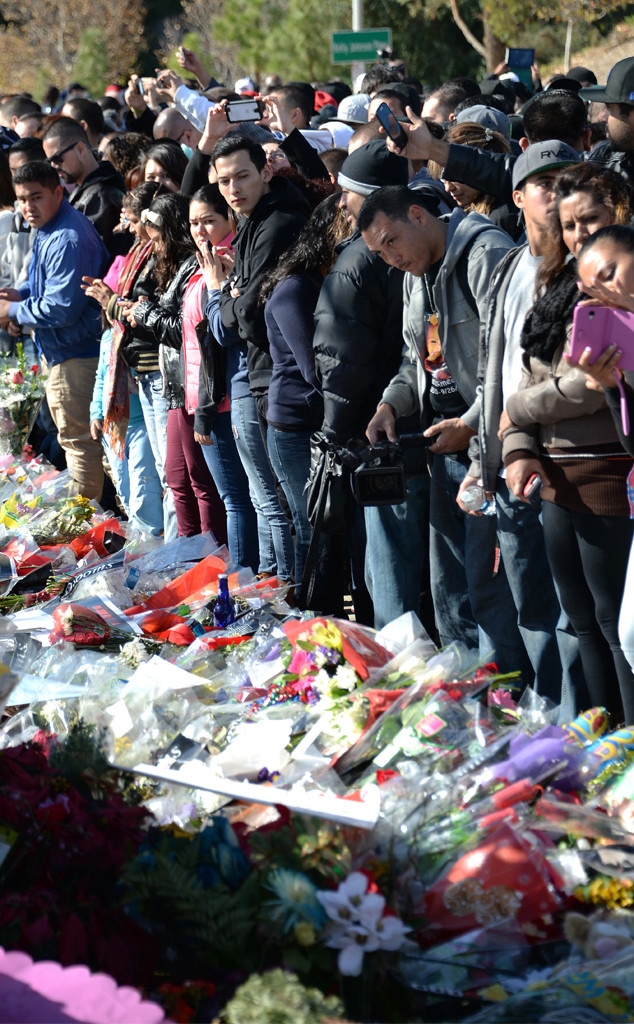 ROBYN BECK/AFP/Getty Images
Thousands of Paul Walker fans and car enthusiasts headed to the site where the actor lost his life to honor him and his late friend Roger Rodas.
At an unofficial memorial rally and car cruise Sunday, fans held "silent prayers, wrote notes of remembrance on a banner and watched and took photos as cars drove around the loop where Walker and Rodas died," according to KNBC.
Mourners in attendance also lined up near the makeshift memorial that had "hundreds of flowers" placed along the site where Walker and Rodas crashed, according to the Los Angeles Times.
The Fast and Furious star and Rodas died Nov. 30 after the 2005 Porsche Carrera GT Rodas was driving, crashed into a pole and burst into flames.
ROBYN BECK/AFP/Getty Images
According to a coroner's report released Dec. 4, Walker died of the combined effects of traumatic and thermal injuries resulting from the crash.
The actor and his good friend went for a drive after attending a charity event for Walker's organization, Reach Out Worldwide.
When police arrived at the scene, the vehicle was already engulfed in flames.
ROBYN BECK/AFP/Getty Images
In addition to the many fan tributes to Walker, his family, friends and co-stars have also honored him with touching messages.
Fast and Furious star Vin Diesel recounted his visit to the home of Walker's mother upon hearing news of his friend's death, and wrote on his Facebook page, "To live in the hearts we leave behind, is not to die," quoting poet Thomas Campbell.
"Pablo, I wish you could see the world right now... and the profound impact, your full life has had on it, on Us... on me...I will always love you Brian, as the brother you were... on and off screen."