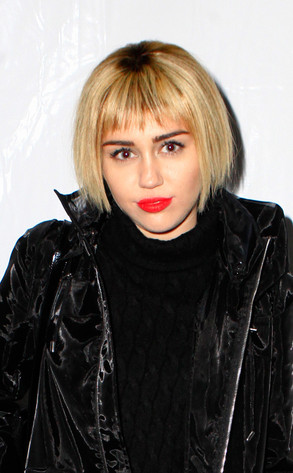 Gabriel Olsen/Getty Images for CBS Radio
Miley Cyrus has a new hairdo, y'all!
The 21-year-old pop star showed off the fresh style while attending 2013 KROQ Almost Acoustic Christmas on Saturday, Dec. 7, in Los Angeles.
The "Wrecking Ball" singer's sleek locks features bangs and a short bob. Her hair is blond, and it is angled with longer pieces in the front.
Cyrus completed the look with a black sweater, a long black jacket, skinny black pants, patterned boots and a bright red lip.
Indeed, it's a wig—and the new 'do looks fabulous.
The songstress added a fun snapshot to her Instagram account on Sunday, Dec. 8, but made no mention of her hair.
"Red wine & plastic cups #classylassy," she captioned the red and yellow tinted pic.