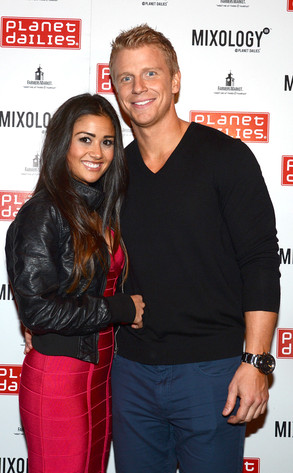 Courtesy: Chris Weeks/Mixology
Catherine Giudici and Sean Lowe fell in love on The Bachelor and soon they will tie the knot!
Before the bride-to-be takes a very special trip down the aisle during a live television special on Jan. 26, Giudici celebrated her bachelorette party this weekend with some of her pals in Miami.
The weekend began with a bit of a scare, after a surprising shock of cold weather in Dallas almost made the brunette beauty miss her big bash.
A source reveals exclusively to E! News that several outbound flights were delayed in Lowe's hometown, but happily the bridal party eventually arrived in the Sunshine State. The group made up quickly for lost time in the warm weather, and spent the afternoon swimming, catching some rays and paddle boarding at the beach.