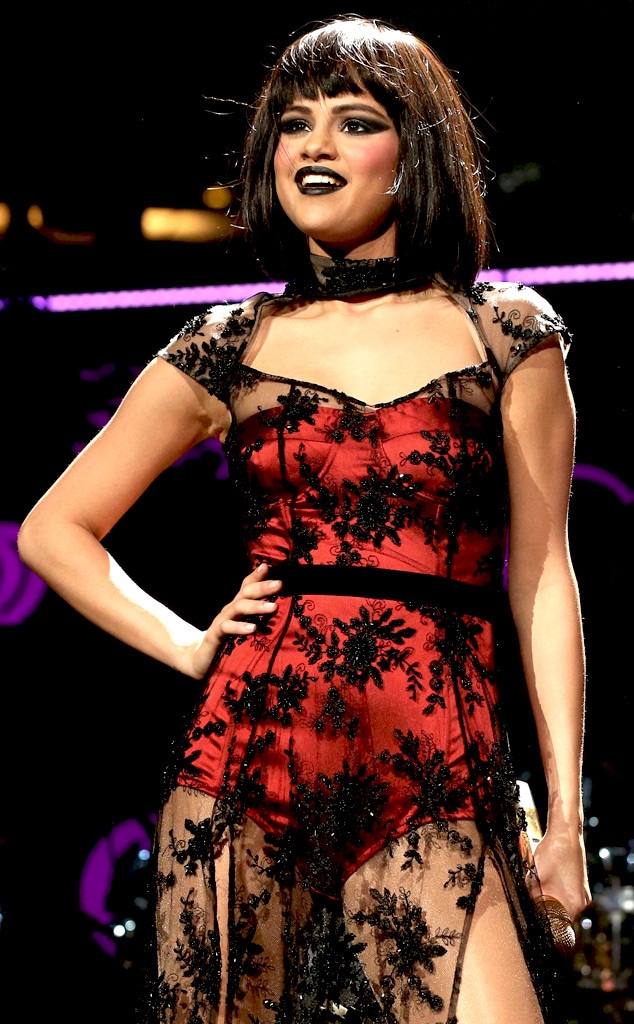 Christopher Polk/Getty Images for Clear Channel
Sometimes it's hard to hide your frustration when you're on stage. And that's exactly what happened to Selena Gomez during a performance at KIIS FM's 2013 Jingle Ball on Friday, Dec. 6 in Los Angeles.
The 21-year-old pop star, who looked sultry in a red strapless bodysuit with a black lace overlay and a black bob wig, had just finished singing one of her hits and apparently lost her cool because of technical difficulties.
"She for sure said 'what the f--k,'" an eyewitness reveals to E! News.
According to this same eyewitness, the lights were off so the brunette beauty's f-bomb moment wasn't shown on the big screen, but "you could hear it crystal clear."
The eyewitness added it "looked like" Gomez was lip synching while using a backup track, and that "she was messing around with her ear piece from the first song so you knew something wasn't right."
"Sorry, the sound is not working!" Gomez apologized to the crowd, captured in an amateur video "Are you guys having a good night? There's a lot cooler people that are gonna come out tonight," Gomez added.
Apparently the sound and microphone issues didn't improve and the "Come and Get It" singer walked off stage before finishing her scheduled set, according to US Weekly.
Gomez's reps did not return a request for comment.
—Additional reporting by Mike Vulpo