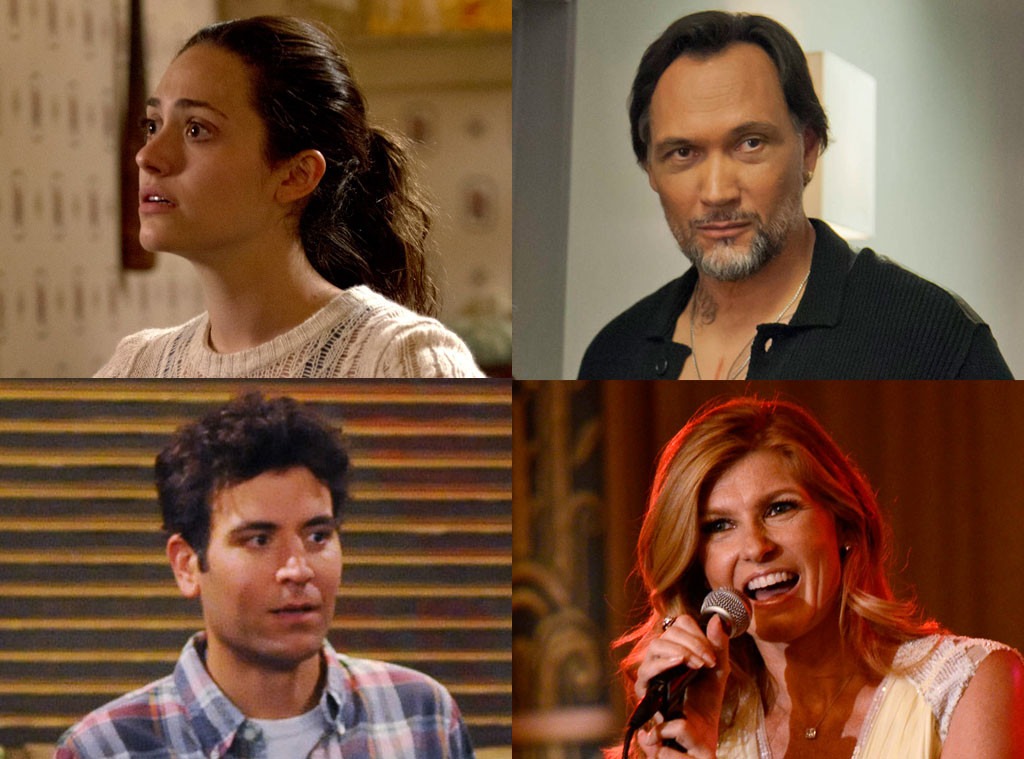 Happy Monday! Let's kick off the week with some steamy spoilers and juicy TV scoop, shall we?
Hold onto your cowboy hats because we've got the latest news on Nashville's super shocking death, plus we chatted with the stars of How I Met Your Mother to discover which of our MacLaren's pub regulars could be popping into the upcoming spinoff.
We've got the latest dish on Sons of Anarchy's mind-blowing finale and TV tid-bits from Shameless, Revenge, Sleepy Hollow and so much more!
Beth: All I want for Christmas is Sleepy Hollow scoop, please and thank you!
Can't wait for tonight's midseason finale? Well, we're about to make the wait even more excruciating as we're sharing a sneak peek in a little bit that will please Ichabbie fans very much. Hint: it involves a very cute (and slightly corny) Christmas tradition that is often a ploy used to get some serious lip action during the holidays. So check back later, mmmkay?
Can you spill something on the Nashville death?
Well, we've already narrowed it down to these eight characters, but we can happily fill you in on a little bit more. You definitely won't see this death coming (we were blindsided!) and you should keep your eyes glued to the screen for the entire episode. Particularly, the final five minutes….
Danny: Nero is my favorite character, so I'm nervous about him heading into Sons of Anarchy's finale!
We think Nero will make it out alive, if only because his feelings for Gemma could stop him from doing something against Jax. "What has developed over these past two seasons between these two characters they've really developed a—you've watched them kind of do this awkward different kind of courtship that's happened.  I mean they're saying I love you to each other now, and who would have thought that would have come out of Gemma's mouth," Jimmy Smits says. "Not just to her son and stuff, but to another relationship guy.  So it's very interesting.  We'll see how that all plays out.  There's a definite pull there."
Kyle: New episodes of Sherlock are almost upon us! Got anything I need to know?
Have you ever imagined Sherlock standing up in front of a room full of people and talking about how much he loves his best friend John? Because that's totally happening in season three! Well, kind of. Sherlock will be John's best man in his wedding to Mary, and yes, he will have to give a toast. But that's not the only thing he has to worry about: someone at the reception wants  the happy couple to suffer, so Sherlock has to give a winning speech and solve a case at the same time. Who else thinks he's more worried about expressing his feelings for John than about catching a killer?
Shawn: Revenge me, people!
Episode 14, awesomely titled "Payback," will feature the super lavish and over the top birthday party for Charlotte. (Ah, they grow up so far, don't they?) And she's going all Super Sweet 16 with it by having a major pop star sing "Happy Birthday" to her. Of course, she doesn't have time to plan this event on her own, so expect to see an Ashley 2.0 running around the Hamptons.
I loved the Shameless trailer that you guys posted! Please tell me that you have some more scoop?
We cannot wait for this new season to premiere (Mark your calendars for Jan. 12 at 9 p.m.!) so of course we've snagged some scoop for our fellow fans. Lip will be going through some major adjustments this season trying to balance his work life, his school life, and his social life—or should we say, lack thereof. Luckily with Karen out of the country and Mandy off his arm, our smartest Gallagher is finally free to find a girl who is not a complete and total psychopath. 
Kacee: I don't ask for much this time of year. Maybe just some How I Met Your Mother scoop?
Happy holidays! We've got scoop straight from the cast when we visited the set recently. Cristin Milioti, aka The Mother, put rumors to rest and confirmed that she will definitely not be in the spinoff. However Josh Radnor said that you "probably" won't see Ted in the spinoff, which means there is a chance Mr. Mosby could pop up. And if you've been missing the Mother lately, do not miss the 200th episode, which Milioti said will "fill in the mother stuff." Bonus scoopy tidbit: Jason Segel revealed that soon we will find out who wins the battle over where Marshall and Lily are going to live.
I can't get enough of American Horror Story: Coven this season. Got any witchy scoop?
Double, bubble, toil, and trouble, we need Stevie Nicks on the double! (Ack, sorry we know that was majorly lame.) Our amazing Marc Malkin recently chatted with Lily Rabe and she revealed a little bit of behind-the-scenes scoop that you've just gotta hear. "She brought me this amazing black velvet jacket and lace skirt from her early Fleetwood Mac days." Rabe shared, "It's great sort of witch appropriate gear." So what will Nicks be doing on the show? The Coven star gushed, "There's singing and there's dancing and there's musical things that happen. I might be doing some shawl spinning."