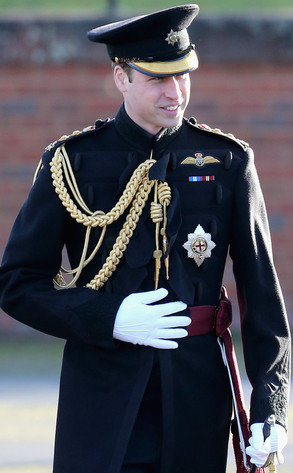 Chris Jackson/Getty Images
Prince William is wrapping up his busy week of engagements.
The 31-year-old royal presented service medals to the First Battalion Irish Guards at Mons Barracks on Friday, Dec. 6, in Aldershot, England.
The Duke of Cambridge, donning a military uniform, was photographed arriving and taking the salute.
Per the BBC, the soldiers receiving the medals came home in October from their first tour in Helmand Province, Afghanistan. They were deployed for six months on Operation Herrick.
Prince William is the colonel of the regiment.
Prince Harry, also known as Capt. Harry Wales, has been deployed to Afghanistan twice, most recently completing a four-month stint of service abroad in January 2013.