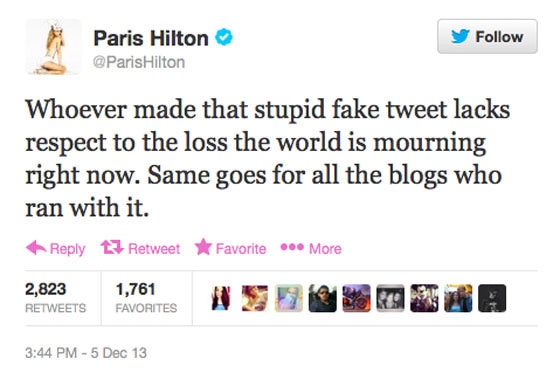 Twitter
Paris Hilton knows who Nelson Mandela is, you guys.
The celeb slammed the Twitter account @DeletedTweets after they posted a screengrab of what looked to be a tweet from the socialite confusing the South African leader for Martin Luther King Jr. when posting about Mandela's death.
"Whoever made that stupid fake tweet lacks respect to the loss the world is mourning right now. Same goes for all the blogs who ran with it," Hilton tweeted.
The fake tweet she's referring to said, "RIP Nelson Mandela. Your 'I Have a Dream' speech was so inspiring. An amazing man."
The tweet quickly gained buzz on the Internet, and earned nearly 15,000 retweets by the time Paris caught wind of it.
Before acknowledging the Twitter prank, Hilton did pay her respects to the Nobel Peace Prize winner, tweeting, "Just landed & heard the sad new about Nelson Mandela. He was a true Hero & the world is a better place because of him. May he rest in peace."
Mandela, who spent 27 years in prison for treason before becoming the apartheid-torn country's first black president in 1994, died Thursday at his home after being in failing health for some time. He was 95.
South African President Jacob Zuma announced his passing in a televised address, "Although we knew that this day would come, nothing can diminish our sense of a profound and enduring loss."
He continued, "Our thoughts are with the South African people who today mourn the loss of the one person who, more than any other, came to embody their sense of a common nationhood. Our thoughts are with the millions of people across the world who embraced Madiba as their own, and who saw his cause as their cause."